Get a Fair Offer for your Home Today. No Headaches, no obligation. Guaranteed!
Rental Property.
We can help you if you are having a hard time with problematic tenants and need to sell your house. You do not have to evict the tenants or pay money for any repairs before selling your house to us.
Every month, we make offers to homeowners for their duplexes, single-family property rentals, and multi-family property in the county.
Land and Lots that are Vacant.
If you have inherited an empty piece of land or own a vacant lot that you wish to cash out on and get on with your life, you can sell it to us. Whether you bought the property yourself and did not develop it or inherited it does not matter.
Most inexperienced buyers simply put up the "for sale" sign and hope a buyer comes along but selling a vacant piece of land or a vacant lot is not always that simple.
There is no point in putting up the "for sale" sign on your property. You can sell that vacant piece of land today!
Financial Problems.
We can help you if you are having difficulties settling your real estate debts or having a hard time accessing the equity on your home because the bank refuses to give you the needed approval.
Instead of paying high interest rates on your debts, you can sell your house to us now and we will pay off the debts because; waiting any further can have very negative consequences for you such as a bad credit score, loss of assets, and huge debts.
You can sell your house fast for cash today and move on.
What Others Are Saying…
A Simple Method to Selling your House without Spending Money.
We have got you covered no matter your reason for choosing to sell your home or wanting to sell without a real estate agent. A lot of people have managed to sell their homes without an agent.
Realtors list your home and typically charge 4% to 7% of the amount you sell your house as commission. With luck, your house will not have to sit on the market for months before it sells. Alternatively, you may have to wait for very long before selling your property making the costs and duration incompatible with your timeline and budget if you need to sell fast.
If you lack the time to do this but need to sell your house fast, we've got a solution for you. BiggerEquity will buy your home for cash without making you pay for repairs. You won't have to worry about showing your house to other buyers; we can close fast within seven days and pay you in cash!
We Buy Houses in an around Laredo for Cash!
We Help People Sell their Homes in Laredo, Texas.
Do you want to sell your house fast and move on to other plans you have for the future? Our goal is to help you sell quickly. Rather than wait long for potential buyers and go through multiple showings that may not yield good result, you can sell to us through a fast and easy process. Regardless of your reason for wanting to sell your house, we can offer cash payment for your house to help you get out of any financial fix that you might find yourself in. Let us help today!
Any number of reasons can prompt you to sell your house quickly for cash. We can make you a no-obligation cash offer for your house irrespective of your reason for selling.
Simply complete our property information form now and we will get back to you with a cash offer for your house within the next 48 hours if you are looking to sell your house quickly in Laredo.
What options do I have to sell my house fast in Laredo, Texas?
What is your Timeline?
How long are you ready to wait before finally selling your house? This is the first factor you need to consider. If there is no rush and you are not under any time constraints, then selling your house the traditional way may be an option for you. Listing it through a real-estate agent sometimes can take 3-6 months or longer to get the house sold. However, if you are selling your house because you need to move and do not have much time on your hands, then you should try an alternative. If you wish to sell your house quickly, selling it directly to a home buyer will be the best option.
How Much are you Willing to Invest?
Yes! Sometimes, selling your house costs you money. Many people are surprised by the discovery that they may need to invest some money if they want to sell their house. This happens if you choose to sell your house through conventional methods. First, you will need to spend money to list your home. Additionally, you may need to invest in renovations or repairs to make your home "move-in" ready for the prospective buyer and you need to pay commission to your real estate agent when the property is sold. These expenses sometimes run into thousands of dollars and some homeowners are unwilling to spend that much in an attempt to sell their home. In such situations, the alternative option is to sell your house directly to a home buyer like us at BiggerEquity who will buy the house as-is so you don't have to spend money.
What is the Selling Price for your House?
Many homeowners over-estimate the market prices of their houses and some of them are ready to wait to find out if the buyer is willing to buy it at the high price they have set. When a buyer comes around, the buyer's offer MAY be lower, higher, or the same as the owner's price. However, some homeowners cannot deal with this kind of uncertainty, nor do they have the luxury to wait for months before getting offers that are in their desired price range. This second category of homeowners usually prefers to work with home buyers, even if the offer is a bit lower than the market price, just to determine how much they can sell their house at present.
How soon do you want to sell your house? We buy houses within any time frame you prefer. Call BiggerEquity at 866-333-8377 to sell your house fast.
If you want to sell your house in 30 days or less, your chances of getting this quick sale made are higher with an investor. Unlike average buyers, their purchasing power is never dependent on bank financing requirements. Depending on funding from financial institutions typically takes well over 30 days to process and involve stressful inspection routines. Admittedly, investors do pay less than average buyers but they will save the day if you need money urgently from selling your house fast within the 30-day window.
Do you have 60 days to wait for your house to get sold? If you're lucky and your house does get sold within 60 days, this is considered a type of quick sale in the real-estate industry. Unlike investors who can buy your house fast within a few days, average buyers will have to wait for applicable banking regulations. If you have enough patience to take on an average buyer, get them interested in the first 2 weeks. Your potential buyer can use the remaining 6 weeks to settle with the bank. This option seldom plays out as smoothly as expected, but it's worth a shot if you think the investors are offering less than you would accept.
If you're not in such a hurry to sell your house and have 90-120 days to spare, you can be sure to receive maximum value for that house. The longer you dare to leave your house on the market, your chance lessens to handpick a buyer whose price and payment conditions you're comfortable with.
Hurry now and sell your house to us today! Our real estate company buys houses no matter the situation.
Three real estate experts founded our company with the objective of offering homeowners a faster, easier, and more convenient way to sell their houses without having to wait for months before selling, enduring uncertainty, or covering closing costs and commissions. We buy homes fast without letting homeowners go through any of the things they hate about selling their homes.
Over the years, we have worked with homeowners in different situations including foreclosure, the loss of a relative, divorce, problematic rental property, among others. We are experts at buying houses across Laredo and neighboring areas quickly for fair prices.
Very often, we come across property owners who have very busy lives that makes it difficult for them to find time to get their house in shape to sell on the real estate market.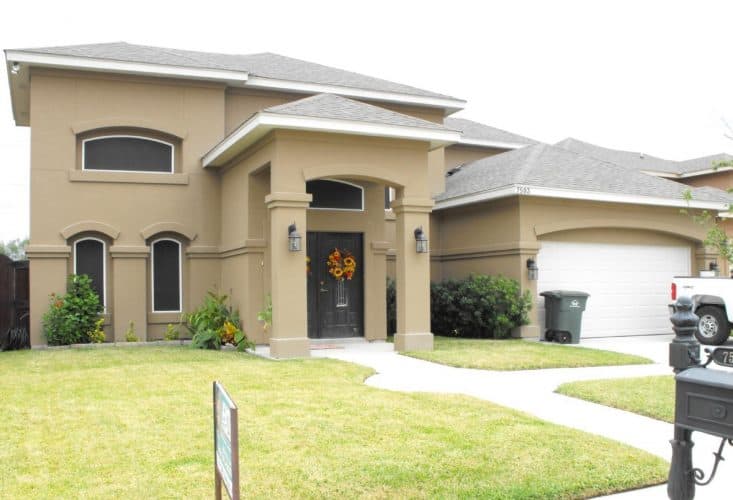 If you have a house in Laredo, Texas, contact us to buy it fast!
We are fair in our dealings. We quote you a fair price very far from cheating. No arrangements fees, no legal fees, and no commissions or survey charges. We factor in the cost of any legal fees. etc. into the offer we make you.
As much as we want to buy your house fast within one week or less, we also put your welfare into consideration. This explains why we don't mind waiting patiently for you to find an alternative before possessing the house you sold to us.
Fill in your name and email in the form on the top right corner above and we will contact you with a no-obligation offer soon. Filling the form also qualifies you to.
We Buy all Kinds of Houses in Laredo, Texas.
Every day, we get enquiries from homeowners who need to sell their house quickly in Laredo.
We are at the helm of home buying in Texas. Rest assured you're safe if you need to sell your house quickly in Laredo.
We will make you a great offer and pay you the actual value of your house. You do not have to incur any expenses in regards to home inspection or closing costs. Sell your house to us the stress-free way.
We Buy Houses in Texas …
With a current population of 27,469,114 and growing, it's the perfect time to sell your house in Texas.
Since the beginning of time in 1845, folks have been selling their homes in Texas
Lawmakers in Austin, the capital of Texas, are always coming up with new laws in congress in order to save you money when selling your home.
Since 1839, Austin the capital of Texas, people have been selling their homes.
Can you believe Texas is 251500 square miles? Houses for sale galore!
The first step in selling a house is a Purchase Agreement between the Buyer & the Seller. Each state has an Official residential purchase agreement. In order to find the official document for use, visit the Texas realtor board page.
Fun Fact: Texas is also known as The Lone Star State
Visit the Texas by following the link, Texas.
Check out the State Page of Texas for additional demographic information for Texas.
Sell My House Fast in Laredo Texas
The city of Laredo is considered to part of Webb county.
Visit the Laredo by following the link, Laredo.
Check out the City Page of Laredo for additional demographic information for Laredo.
Laredo is associated with these zipcodes: 78046, 78045, 78043, 78040, 78041, 78042
The coordinates for Laredo are: 27.5536 latitude and -99.4890 longitude.
We buy in Webb, in cities like and their surrounding areas.