Get a cash offer for your house in Connecticut today and sell your house fast!
Is selling for cash an ideal option for me?
There are no one-size-fits-all solutions for real estate issues; it all depends on the particular situation, your finances, your goals, and timeline . While selling for cash may be the best option for some people, it may not be the best for others. Contact us to receive recommendations today. The information you provide will guide us in determining if selling your house for cash is the best option for you or if you should use other alternatives, such as selling through real estate agents.
How can I be sure your offer is fair?
Our offers are always fair because we use the current value of your property as the principal determining factor of our offer. Like all real estate professionals, we provide you with a market analysis of property that is comparable to your home. This information usually includes the average price for which houses with the same number of bedrooms/bathrooms, square feet etc. as your house were sold recently or the price of similarly listed homes. We compare the average prices of these comparable properties to the current condition of your house, and then deduct the cost of needed repairs for your home before making you an offer.
What if I think now is not the best time to sell?
We will not put you under any kind of pressure if you think now is not the right time to sell your home. If buying your home will hurt you in any way, simply notify us about it. We will be happy to meet with you to talk about it and appraise your present financial situation, needs, and goals to determine if the sale is a good fit or whether it is best not to sell at this time. We can also recommend alternatives that you could pursue.
What Others Are Saying…
As long as your house is in or around Connecticut, we will buy it.
You really don't want the market value of your house to suddenly reduce because you insist on holding tightly to it. Let go already, and sell that property with all the problems associated with it. We will offer you cash instantly!
Is your house invaded by termites? No problem. Is it a case of flood damages you're dealing with? Still not a problem for us, We mean it when we say we buy ugly, inhabitable houses all the freaking time!
It does not matter what is wrong with your house or what fixtures are missing. We like to focus on what's left and offering cash for it.
Here's Why You Should Choose Us
We provide fast and seamless property transactions.
We are reliable buyers that will support you each step of the way.
We close fast to help you get on with your life quickly.
Need a Fast Sale of Your Connecticut House?
We can buy your house fast if you own it outright with no mortgage. No matter the location, size, age or renovation needs, we can purchase your house through a very fast and easy process and provide the cash payment to you without dragging you through evaluations and showings.
Downsizing, repairs, and divorce are just some reasons that people have for wanting to sell. We can help you no matter your situation or the condition of your house. We can take your unwanted property off your hands and make you an offer via a faster alternative to listing.
We cover the closing costs and offer you a simple and fast way to close the deal.
Cities in Fairfield County we buy houses:
Cities in New Haven County we buy houses:
Cities in Hartford County we buy houses:
Cities in Middlesex County we buy houses:
Cities in New London County we buy houses:
Cities in Litchfield County we buy houses: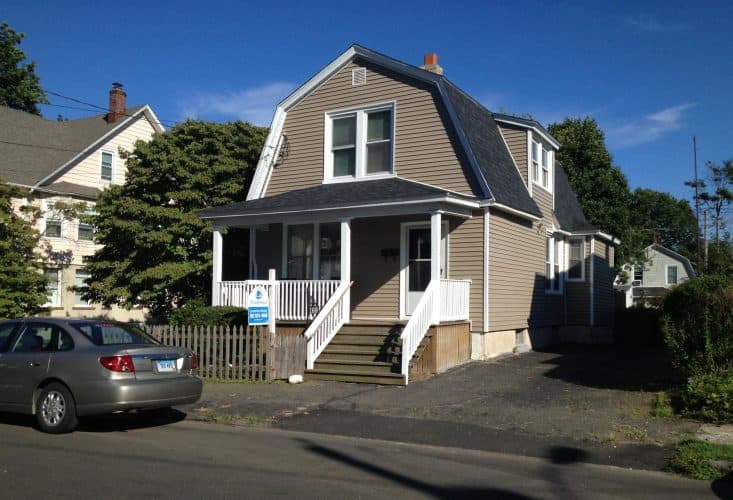 We Buy Houses Fast. This is why you Should Sell your House to Us.
We offer real estate investors huge discounts on investment property we have previously bought in the area. We buy new property all the time so we always have some available for you.
Our company gets the best deals and discounts from those looking to sell property in this area even before other property buyers in the area hear about these deals.
We operate easy and are straightforward. Our exceptional marketing skills allow us to buy real estate property at great discounts and then offer you the property at an even more amazing discount compared to current market prices.
Are you in the Middle of a Foreclosure? Banks do not want you to know these 3 secrets that can save you.
Knowledge
Knowledge is power. Banks know this so they keep you in the dark about the fact that you have the power to sell your house if you are faced with foreclose. While your house has sentimental value to you, to banks; it is simply an asset that can fetch them money. This is why they may lure you into making another deal with them to keep your house because, then, you wouldn't consider selling your house and they can keep milking you dry. In truth, banks do not really care about your welfare and that of your family. They are just after the money.
Power
You control the real power in the financial relationship between you and the bank but they won't tell you this because they want you to believe they are the ones who control the situation.
Action
You can take practical action to get out of your difficult situation now that you know you have the power to sell your house. Banks kept this knowledge from you to prevent you from acting, because they want it to seem like they have the real power over the situation, but you can strip them of this assumption today. By selling your house now, the bank will not be able to make any money from that property in the future.
I need to sell my house in Connecticut Quickly.
If you are having trouble selling your home by yourself, you can be certain we know exactly how you feel. Many property owners set out thinking "I will sell my Connecticut home quickly," yet most of them are unable to get their house sold. We can help if you are having a hard time selling your house.
Regardless of the condition of the home or where it is located in Connecticut; we will buy it fast. We can handle any legal issues with the home ranging from unpaid tax, to tenants that won't comply as well as sharing of assets after a divorce.
All you need to do is give us the permission to do what we do best in situations like this to help you sell your Connecticut house quickly.
A Simple Method to Selling your House without Spending Money.
We have got you covered no matter your reason for choosing to sell your home or wanting to sell without a real estate agent. A lot of people have managed to sell their homes without an agent.
Realtors list your home and typically charge 4% to 7% of the amount you sell your house as commission. With luck, your house will not have to sit on the market for months before it sells. Alternatively, you may have to wait for very long before selling your property making the costs and duration incompatible with your timeline and budget if you need to sell fast.
If you lack the time to do this but need to sell your house fast, we've got a solution for you. BiggerEquity will buy your home for cash without making you pay for repairs. You won't have to worry about showing your house to other buyers; we can close fast within seven days and pay you in cash!
We Buy Houses Across Connecticut. Read on to Find Out how We Operate.
Our team of expert real estate investors has purchased and sold more than 800 homes so far. The experience we gained from these previous sales gives us a clear and deep understanding of how real estate transactions work and how to make the process easy and straightforward. Over the years, transparency and honesty has remained our guiding principles in helping homeowners achieve their objectives without stress.
We can help you no matter your situation whether you are trying to avoid foreclosure, selling as a result of divorce or the death of a relative, tired of a managing your rental property and any other problem. We are ready to buy our house in Connecticut and neighboring parts for cash at a great price. Is your busy schedule making it impossible for you to find time to get your property ready to sell on the real estate market? No worries! You can sell your house to us quickly and receive cash payment from us. We are upfront about telling you whether we will buy your house or not. When you work with us, you do not have to endure the uncertainty that comes with selling your house through a realtor who needs to wait for the buyer to secure the funding to buy your home. We have the funds to buy your house immediately.
We aim at relieving you of the stress that your property is putting on you by ensuring that you sell your house quickly to an honest buyer at a price that is fair. You can avoid the stress, delays and high expenses of selling your house through traditional channels if you sell your property to us today for cash. We assure you that we will buy your house fast and pay you cash to help you get on with your life.
Get a no-obligation all-cash offer today! Provide your property information to get started.
We can make a fair all-cash offer on your house in as little as 24 hours after you contact us with information about your property. We can close at any time that is convenient for you if you accept our offer.
You don't have to worry about a thing regardless of the condition of your house or whether the tenants in it have refused to move out. We will handle all that; buy your house fast for cash, and close within 7 days. We are able to buy houses this fast because we don't depend on traditional bank financing.
Contact us now if you are looking to sell your house quickly in Connecticut. We will come up with a fast, fair, no-obligation cash offer on your home and you are 100% at liberty to accept or reject our offer.
We Buy Houses in Connecticut …
With a current population of 3,590,886 and growing, it's the perfect time to sell your house in Connecticut.
Since the beginning of time in 1788, folks have been selling their homes in Connecticut
Lawmakers in Hartford, the capital of Connecticut, are always coming up with new laws in congress in order to save you money when selling your home.
Since 1875, Hartford the capital of Connecticut, people have been selling their homes.
Can you believe Connecticut is 17300 square miles? Houses for sale galore!
The first step in selling a house is a Purchase Agreement between the Buyer & the Seller. Each state has an Official residential purchase agreement. In order to find the official document for use, visit the Connecticut realtor board page.
Fun Fact: The Biggest city in Connecticut is Bridgeport. Biggest metro area however is Hartford, which used to be the biggest city.
Visit the Connecticut by following the link, Connecticut.
Check out the State Page of Connecticut for additional demographic information for Connecticut.