Sell your House Quickly with a Unique Local Real Estate Company.
We do not list houses like real estate agents do, we buy houses directly from homeowners and we would like to buy your house if you are looking to sell.
We can help you if you find yourself in a difficult situation because of your house and it does not matter if you are inexperienced in selling a house without a realtor or not; we will be here to walk you through it. We will readily buy your house and take care of all the hard work plus you do not have to pay any commissions or fees.
We can help you irrespective of your reason for wanting to sell your house quickly in North Carolina. We have been in the business of buying homes in all parts of North Carolina for many years and have the skills to offer you the best service and treat you with respect whether you eventually sell your house to us or not.
What Others Are Saying…
Are you looking to sell your house in or around Jacksonville, North Carolina? Get a fair all-cash offer from us now!
BiggerEquity is on a mission to provide the most honest, fast, and easy solutions that meet the needs of property owners having real estate problems. We want to offer you a creative solution for your property!
By selling your house to us, you will easily avoid paying realtor fees and avoid the stress of waiting for many months (or even a year) before finding a buyer for your house. Let us make you a cash offer and buy your home now!
You do not need to clean up or pay for repairs. Let us buy your house as-is, regardless of any problems it may have.
Top 8 Benefits of Working Selling to Us.
Speed, convenience, and ease define our transactions. We can complete the entire process of buying your house within 24 house.
You receive money for your house in a few days instead of waiting for months.
You get to sell your house without paying huge sums of money in commissions, taxes, insurance, or closing costs.
There is no risk of uncertainty when you sell to us. We do not depend on bank financing so we will buy your house for sure without endless inspections.
You don't have to spend money on home repairs, tax liens and other bills before selling to us.
You will receive the full price in the offer at the closing table.
From experience, we know the situation of each seller is unique. This is why we personalize our offers to meet your needs.
You have come to the right place if you need HELP with getting out of a bad situation. You will be pleased that you found us!
BiggerEquity specializes in helping people in difficult situations. We are a team of real estate investors who really care about you because, we aware of the hard times that many families go through on a daily basis. You do not have to struggle with selling your unwanted home amidst all that struggle. We provide a straightforward process for you to sell your house quickly and you won't have to pay any agent fees/commissions, repair costs or worry about cleaning your house when you sell to us. We handle all that and help your get on with your life.
The number of persons in difficult financial situations related to real estate problems is on the increase with each passing day. Maybe you are facing judgments, IRS liens, difficulty relocating, probate, foreclosure, divorce , probate, layoffs, paying for two different houses or you simply want to sell your house that has become old and ugly, and you need to sell it fast. One thing you need to know is that, no matter your condition, you are not alone. We are here to help you out.
We buy houses of different categories fast for cash irrespective of whether it is a pretty or ugly home, condo, single or multi-family house, mobile home, manufactured home, or townhome in any part of the country.
Usually, our real estate investors keep an eye out for deals that bring them profit and you can benefit from this depending on your particular situation. We know that every situation is unique and that is why we would like you to give us the appropriate information about your property to guide us in making you a fair offer to buy your house quickly. Simply complete the form to the right and we will reach out to you in 24 hours or less to evaluate your situation and make you an offer. We guarantee you a professional and ethical service when you work with us.
What can I do to simplify the process of selling my house?
Home improvements play a very important role in determining whether or not your house gets sold, how fast it gets sold, and what price it gets sold for. You may not know where to start from right now, but that's about to change if you apply the following tips.
Consult the services of an experienced consultant to inspect your house and recommend the most effective improvements based on the current condition of your house. You may be surprised but sometimes, all you need to do is change the color or landscape of your house.
Admittedly, houses do sell faster in the Spring. But if you wait for Spring before putting your house on the market, don't you see that the competition may be too much for you to handle? So, it's fine if Spring happens to turn up when you're ready to sell your house. Otherwise, just go right ahead and list that house with a Realtor or sell it right away to any credible investor with the best cash offer!
Are You a Homeowner Facing Foreclosure in Jacksonville, North Carolina?
Is your lender about to foreclose on your property because you are unable to make your mortgage payments? BiggerEquity can buy your house to help you avoid foreclosure. We know you are in a difficult situation and we wouldn't like to stress you even more. Instead, we are here to help you stop foreclosure before your lender auctions your house and leaves your credit rating in shambles.
The foreclosure process has already started when your house is turned over to a property trustee by your bank. The foreclosure of your property can be stopped if you are able to get the money to reinstate your loan before the house is auctioned.
We are reputable home buyers based in Jacksonville, North Carolina. Our many years of experience in real estate has allowed us to perfect the process. We will assess the information you provide as soon as you fill out the contact form or give us a call and then make you a fair price offer the same day you contact us. We can close on you property within 7 days and you do not have to pay fees. Our goal is to help you regain control of your life and save your credit rating without debt.
We are your last resort if you must sell your Jacksonville, North Carolina house fast this week.
By calling the main source for purchasing, you've already taken action. We buy houses of any condition fast. If your decision on selling your house has been made, kindly fill out our form today or call 866-333-8377 and consider it sold. We will pay you top dollar for your house. We will buy your house completely and will give you time to reside therein till you're ready to move out. If you own a bad rental, inherited property, transfer, divorce, foreclosure, pretty or a condemned house, we'll buy it and we pay you in cash.
You may have been turned down severely and feel like giving up already. Your sad days are over with us because we will buy your house and give you cash in hand as soon as you want. Congratulations!!!!!
The best part is that, after you agree to the offer you get money straight in your account. Chances are that the company will absorb the extra cost involved and then will immediately request for the paperwork.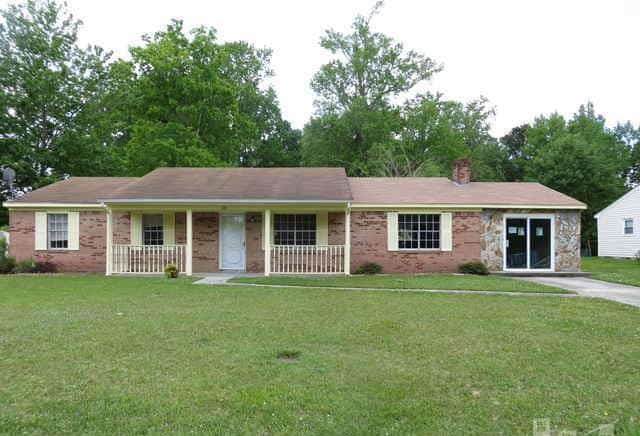 What is your current situation?
I'm Just Looking to Sell my Ugly House in Jacksonville.
Do you want to sell your ugly or old house in Jacksonville? You don't have to wait for the costs of its upkeep to accumulate or for it to get even more uglier. You need not worry anymore about whether anyone will buy your ugly house. We will buy your house no matter what it looks like!
Honesty and fairness are the guiding principles of our business transactions. Expect nothing short of the best experience and service when you sell your Jacksonville home to us irrespective of whether your house requires repairs.
We offer you a hassle-free transaction no matter your reason for wanting to sell your Jacksonville house. We go the extra mile to make sure you sell your house in Jacksonville without delay or trouble. Contact us at 866-333-8377 today.
Sell your House Easily and Quickly for Cash Today.
Whether your house needs major, minor repairs, or total renovation, you can still sell it fast to us for good cash because we buy houses in any condition regardless of the area. Stop worrying about the cost of the repairs today and contact us instead. We will make you a fair cash offer for your house and help you sell it the fast and easy way.
WE WANT TO BE SURE THAT YOU ARE COMFORTABLE WITH YOUR DECISION TO SELL YOUR HOME TO US.
To avoid surprises, we inform our clients of the options available to them and guide them through the entire process involved in selling their house to a professional home buyer. We do this to ensure that you are confident in your decision.
Contact 866-333-8377 today if you want to sell your house for cash. We are experts in coming up with win-win solutions that relieve our customers of their real estate problems. We buy houses in any condition across Jacksonville, North Carolina and we typically make you an offer in within 24 hours. Selling directly to us means you do not have to worry about paying any repair costs, agent fees or commissions.
We Buy Houses in North Carolina …
With a current population of 10,042,802 and growing, it's the perfect time to sell your house in North Carolina.
Since the beginning of time in 1789, folks have been selling their homes in North Carolina
Lawmakers in Raleigh, the capital of North Carolina, are always coming up with new laws in congress in order to save you money when selling your home.
Since 1792, Raleigh the capital of North Carolina, people have been selling their homes.
Can you believe North Carolina is 114600 square miles? Houses for sale galore!
The first step in selling a house is a Purchase Agreement between the Buyer & the Seller. Each state has an Official residential purchase agreement. In order to find the official document for use, visit the North Carolina realtor board page.
Fun Fact: The first succesful powered flight ever took place in the state of North Carolina
Visit the North Carolina by following the link, North Carolina.
Check out the State Page of North Carolina for additional demographic information for North Carolina.
Sell My House Fast in Jacksonville North Carolina
The city of Jacksonville is considered to part of Onslow county.
Visit the Jacksonville by following the link, Jacksonville.
Check out the City Page of Jacksonville for additional demographic information for Jacksonville.
Jacksonville is associated with these zipcodes: 28546, 28547, 28543, 28540, 28541, 28542
The coordinates for Jacksonville are: 34.7323 latitude and -77.3962 longitude.
We buy in Onslow, in cities like and their surrounding areas.