Here's a Quick Way to Sell your Home
BiggerEquity offers real estate solutions to homeowners throughout Charlotte. As a family owned business, our main objective is to help investors and homeowners by creating solutions to their problem no matter the situation. We can help you even if you are having trouble selling your property, in the middle of foreclosure , or have another reason you have decided to sell your investment property.
If you work with us, you can benefit from the simple procedure we have put in place to facilitate the selling of your house in no more than three steps. Our "Sell my House Fast in North Carolina" package is designed to help you sell your house no matter its condition. You do not need to bother yourself with reinvesting in your property through repairs when you can sell it as-is and move on. Unlike realtors, one of the many innovations we bring to the real estate atmosphere is that we want to help you sell your house fast without making you spend even a cent in the process. By selling your house directly to us, we can circumvent all that hassle and you can keep all the money from the sale of your house.
We can hand you a check for your house in less than 7 days after you accept our offer.
What Others Are Saying…
A hassle-free way to sell your house fast!
We Buy Houses Quickly
We buy houses for cash! Cash sales enables us to close on your house faster than many buyers.
One-to-One Involvement
If you have decided to sell your house to us, you won't have to work with a big corporation or a team; you will be dealing directly with me.
We Will Buy your House AS-IS
We buy houses in their present condition, as-is. You are not required to make any repairs or spend time cleaning up.
Apart from selling your house at a great price, there are many other advantages of direct sales.
Selling your house to a direct buyer allows you to avoid the stress of cleaning your house or keeping an open house and letting strangers pick your house apart.
You will not pay for any repairs. We are ready to buy your property as-is and cover the cost of the repairs.
Getting an offer from us puts you under no obligation to us. It's up to you to decide if you want to sell or not.
We are direct buyers, so you do not have to worry about paying agent commissions.
We believe you shouldn't spend money when selling your home. This is why we pay all closing costs.
Which Company will Buy my House Quickly in Charlotte, North Carolina?
Working with the experts at BiggerEquity is your best chance at selling your house fast in Charlotte. At BiggerEquity, we are always searching for more property to buy and rehab in Charlotte. We buy houses of different types in Charlotte including townhouses, condos, commercial properties, and more. We are experts at providing solutions for homeowners who need to sell their houses quickly. Contact us now and we will come up with an offer for your house a few hours after you reach out to us. We buy property from homeowners, banks, attorneys, banks, and any other persons or organization that need to sell and close quickly. In our 6+ years in business, we have helped over 1,700 homeowners close on their homes without having to work with an agent.
We get to work on setting up a time that is convenient for you to receive BiggerEquity local representatives at your house right after you contact us for the first time if you wish to sell your house in Charlotte. The purpose of this visit is to inspect your property and take a few photographs for review purposes. Once this is done, we will contact you in as little as 48 hours to make an offer on your home. Integrity, professionalism, and efficiency are our chief guiding principles in business, so we always strive to make you the best offers and close the deal on your house fast and without stress. We have the connections and experience to help you get a short sale if your mortgage is upside down. Contact us today to start the process of selling your Charlotte home quickly.
The simple process we operate allows us to buy homes faster than most buyers. We typically close within a 30-day period but we are flexible with closing dates and can adjust it to suit your schedule. You don't have to pay any commissions or fees when you sell your house to us. We handle the paperwork and cover all the costs.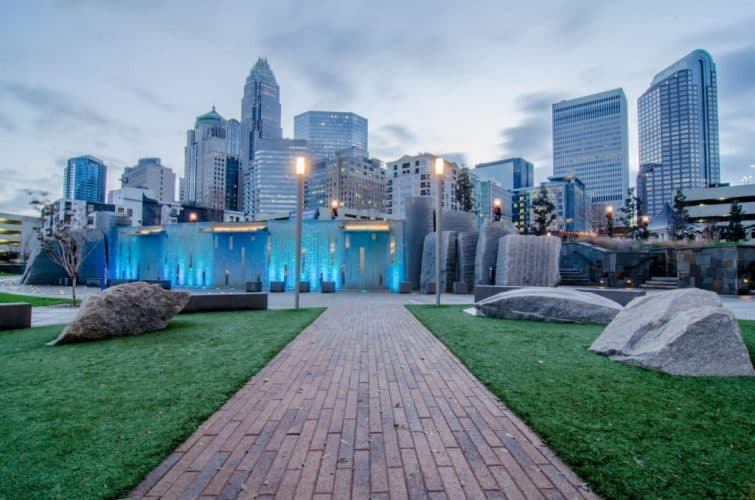 A Secure and Easy Way to Sell your House Fast in Charlotte, North Carolina.
BiggerEquity offers you the best option for selling your home. We embody the standards of what the perfect solution for selling a home should be. Working with us offers you the same degree of security and professionalism of selling with realtors but we go a step further by giving you the need certainty, convenience, and speed when selling your home.
We make it easy for you to sell your house without a realtor in North Carolina because we buy houses directly from homeowners in North Carolina. Provide us with basic information about your property by completing the form above to guide us in making you an offer to buy your house within 10 days or a date that is convenient for you. Note that filling out the form does not put you under any obligations to sell your house to us. We simply use the information to appraise your house and set up consultation.
A good number of studies and surveys suggest that a period when you are trying to sell your home is among the most stressful times anybody can go through. However, we believe all that stress is unnecessary. This is why BiggerEquity provides innovative solutions to sell your home without unnecessary hassle.
Sell your House to us Quickly for Cash.
Are you looking to sell your house to a reputable home buyer quickly? We can buy your house fast for cash no matter the condition of your home or your situation, irrespective of whether you are moving, or if you just want to get out of that house.
You own the property so it is only right that you sell it on your own terms. Rest assured, we will treat you with respect and integrity. You retain complete control over whether you want to sell your house to us and at what time you would like to sell. You enjoy these privileges and WE do the heavy lifting.
We are upfront and honest, so expect to get the best offer and home sale service!
Why sell your house to us?
Read on to find out more if you need to sell your home in Charlotte as-is.
Why should you sell your house to BiggerEquity? Selling your house to us has several benefits if you are thinking, "I need to sell my house fast." We are experts at collaborating with homeowners to come up with cash offers for their homes quickly no matter the condition of the house. When you work with us, you do not have to renovate your house before selling it, so give us a call today! BiggerEquity aims at helping you sell your house in Charlotte quickly for cash because, we buy houses for cash. We have what it takes to ensure that you sell at your desired price and that the sale is a fast one.
Take advantage of how fast we are able to buy your house now! The regular potential buyer normally spends weeks deciding whether they will be staying in your property for a long time or whether they can squeeze out the extra cost of repair. With us, however, none of these is a hindrance. We won't be living in your home, rather, we will remodel it and put it up for sale. We can pay you cash to speed up the process if you agree to sell your home to us. You can sell your Charlotte home pretty fast to us as we do not need to worry about getting bank loan approvals; we are cash buyers! Contact us now if you are currently looking to sell your house in Charlotte for a chance to cash out on your house in 10 days or less.
We know your house might be unpleasant to you, but it isn't to us. We will buy it as is.
Planning to sell your home? Selling houses can be so much difficult that you tend to lose 10-20% if not more of your real estate worth. If you mention selling your house… everyone focuses on price. We can help you through that. We are equipped with sound knowledge on best practice for maximum profits. We know you want as much money as humanly possible and we could help you get just that.
We hope to agree on the sale price and arrange a completion date to suit you with no fees to pay.
After contacting us, you may be asked to fill out a form that captures your personal and property information. We will then furnish you with a cash offer for the property within 24 hours. You have the final say regarding when your cash is delivered safely to you.
What's the ugliest a house can be before it is rejected by people who buy houses fast?
Haha… You will be surprised to know that ugly houses even sell faster these days… Well, we're speaking for ourselves because we buy houses fast, ugly and beautiful alike. So call us now at 866-333-8377 to exchange your ugly house for cash in hand.
What we quote is the price we are offering you. That's the amount that will be wired into your account. You'll have to sort out the tax payments with your accountant.
However, this does not imply that some other companies may or will make you a high-end offer. But ask them who pays the legal costs before concluding that their offer is more attractive.
We Buy Houses in North Carolina …
With a current population of 10,042,802 and growing, it's the perfect time to sell your house in North Carolina.
Since the beginning of time in 1789, folks have been selling their homes in North Carolina
Lawmakers in Raleigh, the capital of North Carolina, are always coming up with new laws in congress in order to save you money when selling your home.
Since 1792, Raleigh the capital of North Carolina, people have been selling their homes.
Can you believe North Carolina is 114600 square miles? Houses for sale galore!
The first step in selling a house is a Purchase Agreement between the Buyer & the Seller. Each state has an Official residential purchase agreement. In order to find the official document for use, visit the North Carolina realtor board page.
Fun Fact: The first succesful powered flight ever took place in the state of North Carolina
Visit the North Carolina by following the link, North Carolina.
Check out the State Page of North Carolina for additional demographic information for North Carolina.
Sell My House Fast in Charlotte North Carolina
The city of Charlotte is considered to part of Mecklenburg county.
Visit the Charlotte by following the link, Charlotte.
Check out the City Page of Charlotte for additional demographic information for Charlotte.
Charlotte is associated with these zipcodes: 28269, 28262, 28105, 28280, 28282, 28209, 28208, 28205, 28204, 28207, 28206, 28203, 28202, 28227, 28226, 28278, 28270, 28273, 28277, 28134, 28216, 28217, 28214, 28215, 28212, 28213, 28210, 28211, 28244, 28126, 28130, 28201, 28218, 28219, 28220, 28221, 28222, 28223, 28224, 28228, 28229, 28230, 28231, 28232, 28233, 28234, 28235, 28236, 28237, 28241, 28242, 28243, 28246, 28247, 28253, 28254, 28255, 28256, 28258, 28260, 28263, 28265, 28266, 28271, 28272, 28274, 28275, 28281, 28284, 28285, 28287, 28288, 28289, 28290, 28296, 28297, 28299
The coordinates for Charlotte are: 35.2080 latitude and -80.8308 longitude.
We buy in Mecklenburg, in cities like Cornelius, Huntersville, Matthews and their surrounding areas.