Are you Wondering how to Sell your Topeka, Kansas House Fast? We can Buy your House Quickly and Easily without Stress. We've got it all Covered!
As a real estate solutions and investment firm, we are experts in providing solutions to help homeowners get rid of homes that have become a burden to them as soon as possible. We are investors that can solve your real estate problems fast by making an all-cash offer for your house today!
Sell Your House in Topeka quickly without spending money on expensive repairs or dealing with the stress of working with realtors. Instead of risking uncertainty and the expenses of selling your home through a realtor , you can sell your home to BiggerEquity and receive an offer from us on-site. Selling to BiggerEquity means you do not have to cover any costs for repairs and you do not have to clean your house before selling it. BiggerEquity is ready to buy your home today.
We are one of the foremost companies around that buy houses in Topeka in its current condition (as-is). Don't stress yourself by trying to clean your house or spending money on repairs, or even paying tax liens. We will cover all these costs and buy your house quickly for cash.
What Others Are Saying…
Do you Want to Sell your House Quickly in Topeka, Kansas? We are Ready to Make you an Offer Today!
We want to buy your house in Topeka! Unlike realtors, we are not interested in listing your house; rather, we are interested in buying it directly from you. We have the experience, knowledge, and financial resources to buy your house fast. When you work with us, you do not have to worry about paying any closing costs, commissions, or any other fees.
Sometimes, it can be quite difficult to sell your house, but you don't have to worry about it anymore. We provide a quick, fair, and stress-free way for you to sell your house so that you can stop spending money on payments. Let us make you a cash offer that allows you to sell your house to us today.
Do not overthink the condition of your property at the moment or whether you have a shot at selling it on the market. We are all about buying houses in Topeka, Kansas even if the house needs heavy renovation. We are ready to evaluate your house and make you an offer right away. Ordinarily, buyers require that you fix your home before selling it; we require you to just have a house you are willing to sell. That is something you do not get every day, and definitely not from any realtor out there. We buy house in any condition . So feel free to contact us as soon you need to sell. We will acquire your home at a decent cash price in just about a week, then renovate and list it on the market ourselves.
Top 8 Benefits of Working Selling to Us.
Speed, convenience, and ease define our transactions. We can complete the entire process of buying your house within 24 house.
You receive money for your house in a few days instead of waiting for months.
You get to sell your house without paying huge sums of money in commissions, taxes, insurance, or closing costs.
There is no risk of uncertainty when you sell to us. We do not depend on bank financing so we will buy your house for sure without endless inspections.
You don't have to spend money on home repairs, tax liens and other bills before selling to us.
You will receive the full price in the offer at the closing table.
From experience, we know the situation of each seller is unique. This is why we personalize our offers to meet your needs.
Get the Best Cash Offer for your Home in Topeka, Kansas Today! Sell your Home Fast!
Sell Your House the Hassle-Free Way in Topeka.
BiggerEquity is your best bet if you want a fast and easy way to sell your house in Topeka. We are pace setters in Topeka home sales for cash market so expect to get the best when you sell to us. Our method is simple, it involves a 3-step process that is sure to get your home sold as fast as possible or at your convenience without making you live through the complicated process of selling a home in Topeka.
Here's an Easy Way to Sell your House Fast , Get your Cash, and Move on.
Liquidating your home may be the fastest option if you are looking for a fast way to break free from your situation and move forward. It is for this reason that we focus on helping homeowners avoid unnecessary expenses and still sell their homes fast. Selling a home can be a big burden especially when you have to pay intermediaries like agents, allow strangers into your home to have a look at it, or incur huge repair costs to get your home ready for the market.
If you don't want it, you do not have to invest money or go through the stress of remodeling or making the needed repairs go get your house ready to sell on the real estate market.
WHY SELL YOUR HOUSE TO BiggerEquity?
BiggerEquity offers real estate solutions to people who are interested in selling their homes or investment property fast for any range of reasons. Our teams aim at improving our community by investing in it. We are expert home buyers with a flair for devising different scenarios that allow homeowners and investment property owners to sell their property fast in a hassle-free and easy way.
The wealth of experience we have gathered over the years has enabled us to successfully handle even the most complicated transactions on the real estate market. In all this time, we have mastered efficient methods that ensure the transaction is stress-free and fast irrespective of whether you are on the brink of foreclosure, own an inherited property you find difficult to manage, or need to sell your home and move on. If this is you, we would like to make you an offer to buy your home. We will take care of all the aspects of the transaction with our expert skills and give you the best customer service.
We put in quality work to bring out the full potential of each property. This is our little way of adding value to the neighborhoods where we work. We provide win-win solutions for buyers and sellers in different situations. Always remember that we are only a phone call away; we are ready to answer your calls and emails, and return them, plus we stay in touch every step of the way.
Are you looking for a professional and trustworthy cash buyer? Our company is ready to buy your house!
There are always great property deals on our inventory because we are always buying new property in Kansas. Are you a real estate investor? Are you looking for great deals in Topeka with attractive discounts? We offer investors the best deals in Topeka.
Your house can be bought today, in its current condition!
Let no one deceive you: that house of yours can be sold in one day. You don't have to be involved in the rigorous paperwork – not when we're here to completely relieve you in cash and kind.
You're not a doubting Thomas now, are you? Well, if you are, you will most likely never take our suggestions seriously. In the long run, we hope you make the right decision after weighing your options between selling that house fast and watching it grow in age. Keep in mind your bill consumption will continue to grow while you're looking for a "perfect price."
What we do is offer you cash for your house and once you accept our offer, we go right ahead to complete the paperwork in a couple of days. Now is the best time to stop overthinking and sell your home fast. Otherwise, the next best time could be never – and you definitely do not want that.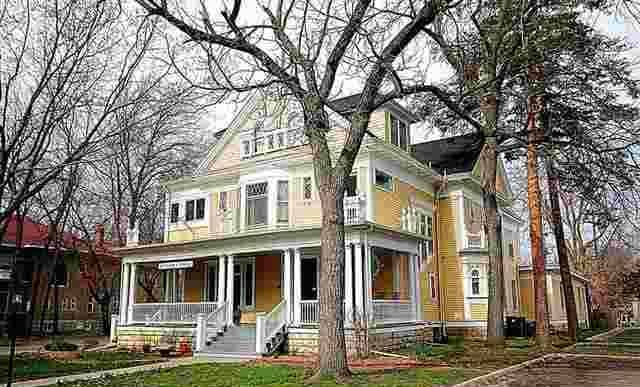 Save tens of thousands of dollars on commissions and fees when you sell off your house. At BiggerEquity we offer risk and hassle free sale and with absolutely no commission or any other fees. Get your payment in fair cash today by selling us your house, call
Do have a property, you do not desire anymore? consider us ever ready to assist! Discover the ways in which a direct sale could influence your situation for the better! We are here to help you on how to make your sales decisions advisedly. Do you feel any need to make some inquiries? We will never get tired of attending to your questions. Place your call right now! 866-333-8377
If you are reading this, I believe you're not looking for a real-estate agent. I believe you want a ready buyer to offer you cash for your house. I don't think I have to tell you what's the difference between using us and using a real-estate agent. But, it might be of great significance to try other home buyers and us, to save you a significant amount of research and stress in the long run.
We operate on zero charges and all set to buy your property right away! So why not grab this life time opportunity that saves you the stress of waiting forever for a bidder.
Do you need to sell your house quickly in Topeka, Kansas? We can buy your house within 30 days.
If you are looking for a way to sell your house fast in Kansas, you have come to the right place! BiggerEquity buys houses for cash in Topeka. We buy houses directly from homeowners in all parts of Topeka no matter the condition.
Unlike realtors who list houses and wait for buyers to come around, we are a real estate investment company that buys houses directly from homeowners. We will buy your house from you without having you make any repairs nor will we conduct multiple inspections on your home.
Selling your house to an investor in Topeka is a great option for you if you are flexible about prices or value a fast and stress-free sale over making some extra money.
We Buy Houses in Kansas …
With a current population of 2,911,641 and growing, it's the perfect time to sell your house in Kansas.
Since the beginning of time in 1861, folks have been selling their homes in Kansas
Lawmakers in Topeka, the capital of Kansas, are always coming up with new laws in congress in order to save you money when selling your home.
Since 1856, Topeka the capital of Kansas, people have been selling their homes.
Can you believe Kansas is 56000 square miles? Houses for sale galore!
The first step in selling a house is a Purchase Agreement between the Buyer & the Seller. Each state has an Official residential purchase agreement. In order to find the official document for use, visit the Kansas realtor board page.
Fun Fact: Witchita Kansas is home to the first Pizza Hut store ever.
Visit the Kansas by following the link, Kansas.
Check out the State Page of Kansas for additional demographic information for Kansas.
Sell My House Fast in Topeka Kansas
The city of Topeka is considered to part of Shawnee county.
Visit the Topeka by following the link, Topeka.
Check out the City Page of Topeka for additional demographic information for Topeka.
Topeka is associated with these zipcodes: 66621, 66622, 66609, 66608, 66607, 66606, 66605, 66604, 66603, 66611, 66612, 66614, 66616, 66601, 66620, 66624, 66625, 66626, 66629, 66636, 66647, 66667, 66675, 66683, 66699
The coordinates for Topeka are: 39.0347 latitude and -95.6955 longitude.
We buy in Shawnee, in cities like and their surrounding areas.