WE PROVIDE REAL ESTATE SOLUTIONS TO SELL YOUR HOUSE EASILY.
BiggerEquity offers real estate solutions with two major objectives. Our first goal is to assist homeowners facing foreclosure and the other is to rebuild affected homes.
The recent housing crisis may be over but it has left financial difficulties and emotional damage in its wake. Our belief is that no homeowner should suffer the consequences of foreclosure or the loss of equity, and all affected neighborhoods and homes have to be restored. We are committed to offering personalized real estate solutions that address the individual situations of each client.
We put customers first and channel all resources at our disposal into resolving real estate problems of homeowners no matter how complicated the situation may be. We have a knack for creating value where none existed before. All our transactions with customers are guided by flexibility , collaboration, and transparency with the aim of providing great value for all parties involved. Our goal is to create a win-win situation for everyone.
What Others Are Saying…
We cover all Costs, you Receive a Fair Offer, and Choose a Convenient Closing Date
Are you considering the options you have for selling your real estate property? Listing your property through real estate agents can be stressful and complicated since you will have to cover some up-front repair costs and endure a series of showings that may not lead to the eventual sale of your house. Even worse, your house may sit on the market for an average of 3-6 months while you continue to pay agent fees throughout that period. If a buyer is eventually found, you will have to pay commissions to the agent at the closing table. Alternatively, listing your house by yourself would still incur certain charges and takes a lot of time.
This is the main reason that homeowners who want to sell their homes often seek out other options. Keeping a house can sometimes become a burden but selling it can be stressful and complicated too. Many buyers realize that in the end they are not really ahead of the game.
We are experts in helping property owners like you – no situation is too difficult nor too simple for us to resolve the best way. For over 30 years, we have worked with property sellers in different situation and in every case, we offered a solution that got them through it. Regardless of the condition of your house in Galesburg or your present circumstance, we can help! Whether your property is in bad shape, needs extensive repairs, or is behind on tax payments. All you have to do is contact us with information about the property and we will use our "sell my house fast in Galesburg" solution to resolve your problem quickly.
Why Sell Your House to Us?
We offer you fast and effective real estate solutions for your Galesburg house regardless of whether it is a condo, a bungalow, a duplex or a single-family house. No matter the type of house you are selling, you can be certain that we are ready to buy it AS-IS and close fast.
We make attractive offers to buy your house for cash and rid you of the burden of your house quickly.
Our terms of service are simple and easy to understand because we keep every step of the process transparent and we are upfront about our intentions. We aim at providing solutions that are mutually beneficial.
BiggerEquity oversees and takes care of all paperwork involved in the transaction to quicken the process and make it stress-free for you.
We don't charge any fees, commissions, valuation expenses, or closing costs. The cost of all activities and paperwork are on us.
Rest assured that we would buy your house irrespective of whether it requires extensive repairs. The physical condition of your house won't stop us from buying it for cash.
Negative equity or no equity is not a deterrent to us. We will still buy your house provided you want to sell.
We have many years of experience as regards buying houses. Over the years, we have successfully closed on countless houses with different sellers in different situations. The vast experience we have amassed from our years of buying real estate as well as providing legal and lending services allows us to tackle your situation with the best solution to resolve it quickly.
Everybody at BiggerEquity treats everyone who sells to us with respect and dignity irrespective of their situation. Our compassionate, friendly, and professional staff are at your service.
Are you saying, "I want to sell my Galesburg, Illinois house as-is for cash"? Receive a Cash Offer for our House Right Away!
Have you tried to sell your house through an agent before? It can easily become a burden because you will need to clean the place up and be available when potential buyers need to see the house. Then, there is the awkwardness of letting complete strangers into your home for endless showings and inspections.
Our mode of operation is very different from the way real estate agents operate because WE PAY CASH; we do not need a bank to close transactions. Once you inform us of the house you want to sell, we will visit your property and give you an offer for your house in as little as 2 hours after we have had a look at your house. When you accept the offer, we can close any time that is convenient for you. It doesn't matter if your house is in a bad condition, needs repairs, or has tenants in it. You need not think about that, we will handle it. We do not depend on traditional sources of financing so if you wish to sell very fast; we can close the sale within 7 days and pay you in cash.
Receive a Cash Offer for Your House
Giving us a call today or filling out an online form is all you need to do to receive an offer your house today. We make the process stress-free and super-fast. No matter the location or condition of your home, we ensure the transaction is an easy one for you, treat you with respect, and give you an excellent income offer.
When is the best time to sell your house?
Once you're ready to enjoy the stress-relieving benefits of selling that house of yours, we will buy it immediately. Hurry up with making up your mind though, because you never know when your chances of selling for a satisfactory price will suddenly crash!
If your house is becoming too expensive for you to manage, it may soon end up being more of a liability than an asset. To prevent this from happening, it's best to let it go as soon as possible. Otherwise, you may end up spending the rest of your life on recurring bills that add no value.
It could be hard to do, but we've done it in just 2 days! Closing in 2 days has never been easy, but we indeed finalized the contract in 2017 we closed on a house we signed under contract in 2015. The timing is up to you.
Sell your house in no time. a convenient way for you to save yourself, and avoid commissions or fees. No risk, No obligation!
With our tentacles spread across many parts, BiggerEquity takes it upon itself to take care of the renovations after buying from you. So, worry less about the present condition of your home sell them right away.
One advantage of trusting us to buy your house instantly instead of waiting indefinitely for a real estate agency to try selling it is that we have been in your shoes before and we know a number of issues that you don't look forward to when it comes to selling your house.
You can avoid all the tedious work that comes with selling your house. If you work with us, we can make you a cash offer on your home today if you call us now on 866-333-8377 or fill out the form on our site and have us contact you instead.
Get a no-obligation cash offer to sell your house to us!
Do you need to sell your house without spending money to fix it up? Do you want to avoid listing your house on the real estate market? Do you need to avoid waiting for months before getting a buyer? Are you worried that you may have to pay exorbitant fees and commissions? Worry no more! We offer expert assistance to homeowners like you to help them sell their homes without hassle. Let us make you a no-obligation cash offer today and close at a time that is convenient for you.
We buy different kinds of residential property such as condos, single-family houses, multi-family houses, and townhouses. We can help you regardless of your situation, whether you have a burdensome rental property, an inherited house, a house with major repair needs etc. Sell your house to us fast if you no longer want your house of cannot keep up with the bills anymore.
If you need to sell your house quickly and easily without the hassles that accompany the process of selling with a real estate agent, BiggerEquity is your best chance to get it done. We are a family owned business that helps homeowners out of tricky situations by helping them get rid of their property through a simple and fast process. We always offer our clients a win-win solution to their problems and go the extra mile to be of help in any way we can. Contact us today!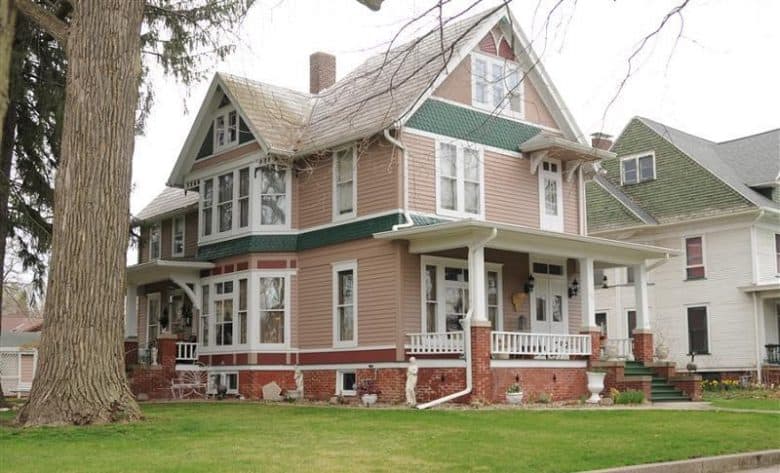 We buy both ugly and gorgeous houses for cash! Get a quick offer for your house right away!
We buy houses that are ugly or in bad shape and nice houses in Galesburg regardless of whether it is a bungalow that is in perfect shape, a well-furnished house in Galesburg, or any other type of house. We are willing to buy your house irrespective of its condition, price, size, or age and regardless of whether it needs extensive repairs, minor repairs, complete renovation, or even a demolition.
Your house does not have to be vacant before you sell it to us. We are ready to buy your house while the tenants still live in it. Our personalized approach to buying houses is designed to meet your specific needs. Additionally, we can buy your house with all your property/belongings such as your car in it. Tell us about your situation today and we will come up with a smooth and fast way for you to sell your house to us without hassle.
Understanding your individual situation as a unique one enables us to come up with the best solution to resolve it quickly. We can collaborate with other investors to make you the best possible offer for your home and close the sale fast or at any time you choose. We also help by recommending other alternatives to consider if we are unable to buy your house.
Our process of buying Galesburg, Illinois houses fast is completely seamless.
There are no middle men involved in our process of buying houses fast. The agreement is directly between you and us, so you won't have to worry about surprise terms and conditions. We are the big boys on the block so instead of listing your house for sale like realtors or waiting for bank loan approvals before we can afford your home, we simply give you some cash from our abundant supply. It's that simple; on your own terms.
Repair costs could leave you financially destabilized. So instead of trying to repair what's left of your ugly house to increase its chances of being sold, just sell it to us. We buy houses fast: any condition, any location, and any price. Bring it right on!
The circumstances leading to the sale of your house will not make us reduce our cash offer to you. Your private information will be kept private, and you will enjoy the short but pleasurable journey with us. Call us now at 866-333-8377 to sell your house fast.
We Buy Houses in Illinois …
With a current population of 12,859,995 and growing, it's the perfect time to sell your house in Illinois.
Since the beginning of time in 1818, folks have been selling their homes in Illinois
Lawmakers in Springfield, the capital of Illinois, are always coming up with new laws in congress in order to save you money when selling your home.
Since 1837, Springfield the capital of Illinois, people have been selling their homes.
Can you believe Illinois is 54000 square miles? Houses for sale galore!
The first step in selling a house is a Purchase Agreement between the Buyer & the Seller. Each state has an Official residential purchase agreement. In order to find the official document for use, visit the Illinois realtor board page.
Fun Fact: Abraham Lincoln used to live in Springfield Illinois.
Visit the Illinois by following the link, Illinois.
Check out the State Page of Illinois for additional demographic information for Illinois.
Sell My House Fast in Galesburg Illinois
The city of Galesburg is considered to part of Knox county.
Visit the Galesburg by following the link, Galesburg.
Check out the City Page of Galesburg for additional demographic information for Galesburg.
Galesburg is associated with these zipcodes: 61401, 61402
The coordinates for Galesburg are: 40.9506 latitude and -90.3763 longitude.
We buy in Knox, in cities like and their surrounding areas.