Sell your house to us the fast way!
Are you thinking, "How do I sell my house Quickly?"
You do not have to go through the stress of your having your house sit on the market for many months. We can buy it for cash right away and close the sale fast. We can even work out an arrangement to buy and lease back your house or offer you options that will help you move on fast.
We simplify the process of selling a home so that you do not have to spend time and money getting your house ready for the market. You can easily avoid all that inconvenience by selling your house to us quickly and getting on with your life. The process only involves a few easy steps and you do not have to cover the costs of repairs and inspections or wait for us to get a loan approval. We can solve any real estate problem your that is stressing you.
Do you find yourself in a financial bind and need to sell your house? We provide effective solutions for homeowners who need to sell for almost any reason. Whatever your situation, BiggerEquity is always there to help.
What Others Are Saying…
What Types of Houses are We Interested in?
We purchase different categories of real estate such as Townhomes, Condos, Single Family Homes and even Vacant Lots. Provided a piece of property has the potential of being developed into a residence, there is a big chance we would like to buy it. Feel free to contact us even if you are not sure we buy the type of property you wish to sell.
WE are interested in buying houses of different shapes and sizes regardless of whether the house is not in good condition, ugly, or very old. We are interested in buying your house irrespective of whether it has low, zero or no equity. We do not even mind if it has negative equity! You can be sure that we will buy your house whether it has liens issues, code violations, or it is in a condition that most potential buyers will shy away from and banks will not finance. Contact us today!
We are not in business to take advantage of persons in your situation. Instead, our objective is to give you a solution that is fair in as little time as possible. Whether we buy your house or not, we can help you resolve your real estate problems by helping you find tenants, refinance, or assist you in rectifying code violations, or resolving liens and many other legal issues.
4 Easy Steps to Sell Your Home.
We have assisted countless homeowners looking to sell their homes.
We will call you to get the relevant information about your property and discuss the solutions available for you to get all the CASH you can from selling your house.
We can pay you a visit for your home valuation and you may get an offer from us to sell your property as-is while we are there. You do not need to spend a cent on repairs.
If you accept our offer, all parties will sign the contract and we will pay you the full amount in the offer within 30 days of the signing. We are responsive throughout (and after) every transaction so feel free to ask us questions you may have.
We are ready to buy your house quickly for cash no matter the condition.
We keep all information you give us about yourself and your property confidential. In addition, it is 100% up to you to accept or reject our offer.
We assure you that the transaction will be a quick and stress-free experience.
Sell your house the fast and hasle-free today by working with one of the top house buyers in Frankfort.
Want to sell fast? I'm here to help you ease your stress.
BiggerEquity is committed to rendering the best service. Our business has stood the test of time because of our dedication to integrity in all our business transactions.
I'll buy your house as-is… Be it ugly, good looking, big, small or anything in between. I'm your friendly neighbor, a local investor , and not some unknown company.
Accept the cash offer made on your "as is" house and choose a closing date that works for you.
Our speed and responsiveness are unmatched. We are fully ready to help you.
We are 100% committed to the goal of making you an offer in as little as one hour after you give us a call or fill out our online form.
Trying to sell your house fast in Frankfort when you have a very busy schedule or lack the resources to get it ready for sale is very frustrating because either you do not have the time to do the work or you cannot afford to hire a professional to make your house marketable. Rather than worrying about this, you can sell your house to us instead. We are ready to buy your house in Frankfort for CASH and handle all the paperwork and processes involved in the sale without stressing you in any way. We buy houses in Frankfort, sell your house to us today and get over whatever stress your home is putting on you.
We are available to answer any questions you may have about the process and will guide you in deciding how best to go about selling your home. We can clarify all issues about how the transaction works.
The process of selling your house today works like this:
Contact us by phone or complete the quick Cash Offer form on our website to get started. We'd like to discuss the details of your house and how we can be of assistance to you. Calling us is free and doing so puts you under no obligation. One of our team members will discuss with you and clarify any issues you may want to know more about. We only require the basic information about your property including its location, size, and condition, and we keep all the information about your property confidential.
We know that every house and situation is unique. This is why we use the basic information you provide about your house to come up with a solution that is tailored to your needs. Our solutions are flexible and can be modified to fit even the most complicated situations. We can help you regardless of whether you need to avoid foreclosure, require the services of a real estate attorney, own a house that is full of property that you do not need, wish to sell your house and buy a new one, or own an inherited property with probate. Hurry now and tell us about your property and we will kickstart the process of helping you sell your house quickly and without hassle.
Our team at BiggerEquity have deep knowledge and experience about how the market works. We know the neighborhood well so we understand your situation as well as the value of your house. Feel free to request an offer from us today if you need to sell a piece of real estate property in any part of Kentucky.
Are You a Homeowner Facing Foreclosure in Frankfort, Kentucky?
Is your lender about to foreclose on your property because you are unable to make your mortgage payments? BiggerEquity can buy your house to help you avoid foreclosure. We know you are in a difficult situation and we wouldn't like to stress you even more. Instead, we are here to help you stop foreclosure before your lender auctions your house and leaves your credit rating in shambles.
The foreclosure process has already started when your house is turned over to a property trustee by your bank. The foreclosure of your property can be stopped if you are able to get the money to reinstate your loan before the house is auctioned.
We are reputable home buyers based in Frankfort, Kentucky. Our many years of experience in real estate has allowed us to perfect the process. We will assess the information you provide as soon as you fill out the contact form or give us a call and then make you a fair price offer the same day you contact us. We can close on you property within 7 days and you do not have to pay fees. Our goal is to help you regain control of your life and save your credit rating without debt.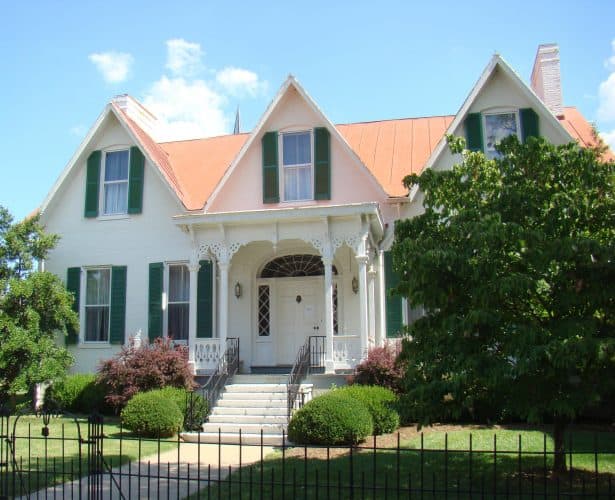 Real estate purchase and sale agreements in Frankfort, Kentucky.
The buyer's duty is to carry out a reasonable inspection of the property before finalizing the purchase. Buyers who fail to discover defects that could have been found with a reasonable inspection won't be able to recover for latent defects. Unless the seller him/herself purposely hides such defects.
The seller at all times shall answer accurately and in truth to any inquiry on the condition or status of the real estate from the buyer. If the buyer finds out untrue or false information was given due to the property's status, lawful action may be taken by the buyer. The buyer has the right, and choice to sue the seller for any loses/harm caused and the devaluation or diminution in the house's value.
Furthermore, most "latent and unseen defects" in a house or other property should be brought to the knowledge of the buyer, even when not asked. Also, any problem(s) or defect(s) that the seller is aware of, must be communicated to the buyer when it is evidently clear that such defect(s) can't be discovered except through a reasonable professional inspection.
Are you Looking to Sell your House in Frankfort, Kentucky Quickly?
Contact us right away if you are looking to sell your house fast and without hassle in Frankfort. Have you had no luck selling your house with a realtor on the MLS or trying to sell it by yourself (FSBO for sale by owner)? We can help you. We are willing to work with you or with your agent (if you have hired one). Whom we work with is not a problem; our goal is to buy property from owners who are looking to sell their property in Frankfort.
Listing your property has many downsides. For example, it leaves you in a state of uncertainty and makes you compete with others for buyers. Under such circumstances, buyers would most likely side step your house and make offers on move-in ready houses if your house needs any repairs that they are not willing to spend money on. There is also the awkward and annoying part of having an open house where strangers can visit at almost any time to have a look. However, most homeowners want to sell their houses in Kentucky quietly without the entire neighborhood knowing.
If you are lucky enough to find a buyer, the contingencies he or she may have put in the deal may be numerous. It is also possible that they will not be able to get the loan approvals they need to buy your house, which can result in further delays and end up being a waste of your time as well as costing you more money due to the extra holding time.
We Buy Houses in Kentucky …
With a current population of 4,425,092 and growing, it's the perfect time to sell your house in Kentucky.
Since the beginning of time in 1792, folks have been selling their homes in Kentucky
Lawmakers in Frankfort, the capital of Kentucky, are always coming up with new laws in congress in order to save you money when selling your home.
Since 1792, Frankfort the capital of Kentucky, people have been selling their homes.
Can you believe Kentucky is 14700 square miles? Houses for sale galore!
The first step in selling a house is a Purchase Agreement between the Buyer & the Seller. Each state has an Official residential purchase agreement. In order to find the official document for use, visit the Kentucky realtor board page.
Fun Fact: The oldest continious horse race in the united states is the Kentucky Derby.
Visit the Kentucky by following the link, Kentucky.
Check out the State Page of Kentucky for additional demographic information for Kentucky.
Sell My House Fast in Frankfort Kentucky
The city of Frankfort is considered to part of Franklin county.
Visit the Frankfort by following the link, Frankfort.
Check out the City Page of Frankfort for additional demographic information for Frankfort.
Frankfort is associated with these zipcodes: 40604, 40601, 40602, 40603, 40618, 40619, 40620, 40621, 40622
The coordinates for Frankfort are: 38.1924 latitude and -84.8644 longitude.
We buy in Franklin, in cities like and their surrounding areas.