We Buy Houses in Bridgeport, Connecticut. We are Fast, Secure, and Fair Buyers.
One secret to selling your house fast is to work with a top rated company that is reliable. BiggerEquity is a reputable firm that buys houses across Bridgeport no matter the condition of the house. Got any special needs? Our team of expert service providers at BiggerEquity can meet all your needs.
Conventional real estate transactions are typically accompanied by extra costs, complicated procedures, and delays but you can avoid all that by working with BiggerEquity. Let us make you a cash offer for your property fast. We keep all our transactions confidential and we can coordinate your relocation.
Thanks to our many years of experience, we have the skills and resources to make all our real estate transactions simple. Do you want to sell your Bridgeport house fast? We would like to make you a cash offer for your home and close the sale very fast.
What Others Are Saying…
A Fast Way to Sell your Home in Bridgeport, Connecticut.
Have you decided to sell your property quickly in Bridgeport? We are ready to make a fair all cash offer on your house regardless of its location in Bridgeport or whether it is a condo, an old house, or a brand new home that is part of a recent residential development.
Listing your home could mean you will have to wait for months before a qualified buyer comes around. Instead of waiting this long, we can buy your Connecticut house from you today. We will buy your house very quickly for cash and take care of all the paperwork. No commissions! No Fees!
EARN SOME MONEY BY REFERRING A FRIEND
Did you sell your house to BiggerEquity in the past? You can earn up to $1,000 from us if you refer any of your friends who wants a cash offer for their homes to us. Learn more about this works here.
It is important to consider these factors when planning to sell your home.
How much time do you have? Do you need to sell your home urgently?
Are you relocating due to a job transfer or new job?
Are you moving due to your financial situation, medical condition, or is it school-related?
We are home buyers who genuinely want what's best for you.
Discover your options over a phone conversation.
We can discuss the sale of your property over a 15-20 minute phone conversation to get all the information we can about your property and the goals you have. We genuinely want to give you an offer that is best for you by giving you different options instead of a standard "take-it-or-leave-it" offer that may put you under pressure. The offer we make you depends on the information you give us so we encourage you to be honest and upfront with us. Telling us the roof of your house is brand new may drive the numbers up but our offer is bound to change if upon inspection, we discover you have a leaky old roof.
One-to-one Meeting/House viewing.
We are always ready to come over and have a look at your place once you give us the permission to do so. Our visitation is for two reasons. The first reason is to conduct a thorough inspection of your house and the second reason is to make you an offer for your home on the spot. We can sign the contract to buy your property while we are there. There are usually only two contingencies in our contracts. Firstly, we cannot buy your property unless we get a clear title on the property. THIS IS A MUST. Secondly, we will re-negotiate or terminate the contract if our professional home inspection team discovers something that we had not anticipated during the 7-day inspection period written into the contract. We cover the cost of the inspection and do our best to complete it in just a few days. By working with us, you can avoid the uncertainty that usually comes with selling a home because, with us, you will find out whether we will close or not in a matter of days instead of waiting for weeks.
Closing Process
We let you pick a date that is convenient for you to close the transaction, assuming there is no holdup with the title. If you allow us to use an attorney, we will cover the attorney's fees ourselves. The title costs is split between you and us but you will have to pay your prorated taxes. Once this simple process is completed, you can finally forget about the hassle of selling your house.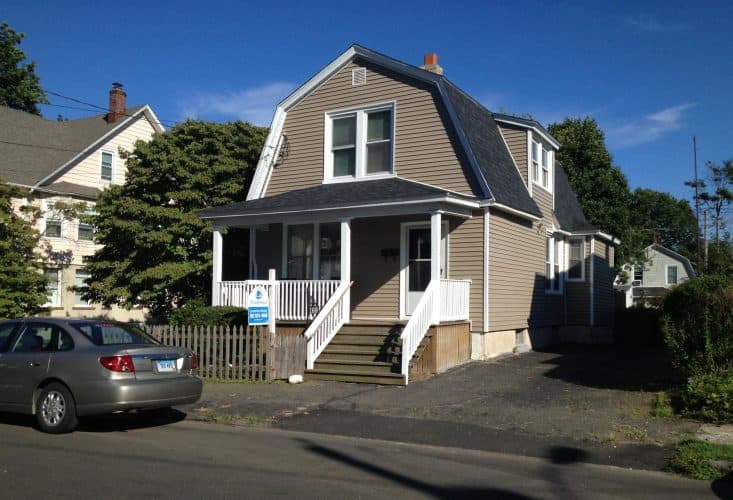 The process of selling your house today works like this:
Contact us by phone or complete the quick Cash Offer form on our website to get started. We'd like to discuss the details of your house and how we can be of assistance to you. Calling us is free and doing so puts you under no obligation. One of our team members will discuss with you and clarify any issues you may want to know more about. We only require the basic information about your property including its location, size, and condition, and we keep all the information about your property confidential.
We know that every house and situation is unique. This is why we use the basic information you provide about your house to come up with a solution that is tailored to your needs. Our solutions are flexible and can be modified to fit even the most complicated situations. We can help you regardless of whether you need to avoid foreclosure, require the services of a real estate attorney, own a house that is full of property that you do not need, wish to sell your house and buy a new one, or own an inherited property with probate. Hurry now and tell us about your property and we will kickstart the process of helping you sell your house quickly and without hassle.
Our team at BiggerEquity have deep knowledge and experience about how the market works. We know the neighborhood well so we understand your situation as well as the value of your house. Feel free to request an offer from us today if you need to sell a piece of real estate property in any part of Connecticut.
We can buy your home in Bridgeport, Connecticut and pay you cash.
At BiggerEquity, we value honesty and transparency. Unlike fly-by-night property investors, we are not looking to take advantage of the situation that is making you sell your home. Our main mission at BiggerEquity is to buy your house for cash at a fair price the honest way.
Apart from buying your home in Bridgeport for cash, there are other advantages of selling your house to us:
No need to list your house on the market.
We will take care of the paperwork and cover the closing costs.
We will buy your house as-is.
30 days or less is our usual closing time.
Throughout our years in business, we have worked with numerous homeowners in different situations. We would like to work with you whether you need to sell your house because you are facing foreclosure, need to sell your burdensome home quickly for fast cash, are relocating because you got a new job or got transferred, or inherited a home in Bridgeport but do not want to keep it or list it on the real estate market. We can help you even if you are a landlord whose rental property has become a burden.
SELL YOUR HOUSE IN Bridgeport, Connecticut FAST FOR CASH NO MATTER THE CONDITION.
Our company buys houses across Bridgeport no matter the condition or your situation. We are ready to buy your house and cover all the closing costs on the deal irrespective of whether you are in debt or facing foreclosure.
We Have Bought Hundreds of Houses in the Past
Over the years, we have been buying houses in Bridgeport and this experience has equipped us with the knowledge of how the market works. We have seen it all, and know every single step of the process as well as the right techniques to ensure your house gets off the market fast. We can also handle all the paperwork for you. If you have chosen to work with us, you can be confident that you have chosen to work with house buyers who know what to do.
Contact BiggerEquity today at 866-333-8377 if you need to sell your house fast because time is running out on you. We hold first place among trusted property acquisition teams all over the country and we buy homes in Bridgeport and help resolve real estate problems of Bridgeport homeowners and homeowners in other parts of the US.
Do you want to sell your house fast in Bridgeport, Connecticut? Sell your house for the best price the easy way.
Do you need to sell your property fast for a great price through an easy process? You have come to the right place. BiggerEquity has the funds to make you an attractive offer for your house no matter its condition or location. You can sell your house to us privately in as little as 28 days.
If you have decided to sell your house to us, you have decided to sell to a team of skilled, honest, transparent and friendly professionals that is not an average property buyer. Our company ranks among the best in the industry because you don't have to worry about hidden costs or last minute change of mind when you work with us. We give you the best price with no stress.
Are you still feeling unsure? Just let us know when you would like us to visit your property. It does not put you under any obligation.
Do you Need to Sell your Home AS-IS?
We are the best home buyer in the USA! We buy homes for CASH regardless of the condition and you do not have to pay for repairs when you sell your house to us. Quit asking "How do I sell my house quickly?" because we are ready to buy your house in Bridgeport without hassle, as we understand the workings of the Bridgeport market.
We make it super-easy for you to sell your home by taking the time to understand your situation first, then guiding you through every step of the transaction. We will buy your house for cash and close at a time that is convenient for you.
We have been in the business of buying houses irrespective of condition since 1996. With us, you do not need to worry about the gimmicks from buyers who aren't serious about purchasing a home, as well as buyers who cannot secure the financing to buy your home. Contact BiggerEquity today to sell your home in Connecticut without hassle.
We Buy Houses in Connecticut …
With a current population of 3,590,886 and growing, it's the perfect time to sell your house in Connecticut.
Since the beginning of time in 1788, folks have been selling their homes in Connecticut
Lawmakers in Hartford, the capital of Connecticut, are always coming up with new laws in congress in order to save you money when selling your home.
Since 1875, Hartford the capital of Connecticut, people have been selling their homes.
Can you believe Connecticut is 17300 square miles? Houses for sale galore!
The first step in selling a house is a Purchase Agreement between the Buyer & the Seller. Each state has an Official residential purchase agreement. In order to find the official document for use, visit the Connecticut realtor board page.
Fun Fact: The Biggest city in Connecticut is Bridgeport. Biggest metro area however is Hartford, which used to be the biggest city.
Visit the Connecticut by following the link, Connecticut.
Check out the State Page of Connecticut for additional demographic information for Connecticut.
Sell My House Fast in Bridgeport Connecticut
The city of Bridgeport is considered to part of Fairfield county.
Visit the Bridgeport by following the link, Bridgeport.
Check out the City Page of Bridgeport for additional demographic information for Bridgeport.
Bridgeport is associated with these zipcodes: 06605, 06604, 06607, 06606, 06608, 06610, 06601, 06602, 06673, 06699
The coordinates for Bridgeport are: 41.1909 latitude and -73.1958 longitude.