We buy both ugly and gorgeous houses for cash! Get a quick offer for your house right away!
We buy houses that are ugly or in bad shape and nice houses in Firestone regardless of whether it is a bungalow that is in perfect shape, a well-furnished house in Firestone, or any other type of house. We are willing to buy your house irrespective of its condition, price, size, or age and regardless of whether it needs extensive repairs, minor repairs, complete renovation, or even a demolition.
Your house does not have to be vacant before you sell it to us. We are ready to buy your house while the tenants still live in it. Our personalized approach to buying houses is designed to meet your specific needs. Additionally, we can buy your house with all your property/belongings such as your car in it. Tell us about your situation today and we will come up with a smooth and fast way for you to sell your house to us without hassle.
Understanding your individual situation as a unique one enables us to come up with the best solution to resolve it quickly. We can collaborate with other investors to make you the best possible offer for your home and close the sale fast or at any time you choose. We also help by recommending other alternatives to consider if we are unable to buy your house.
What Others Are Saying…
Sell your House AS-IS even if it is Damaged by Water.
Do you need to sell your house that is damaged by water? BiggerEquity can buy your house in AS-IS condition regardless of whether it's been flooded or if your bathtub is overflowing. We will buy your house and cover the repair costs irrespective of how much damage your house has sustained be it little patches of water on the floor or serious damage to the ceilings, appliance, plumbing, walls, or wiring. You won't need to spend a dime on repairs.
Most home buyers shy away from buying houses with water damage because it leave the property looking less than desirable and damages stuff like the wiring in the building. Most buyers will likely pass up on buying your house if they find it in this state because they do not want to spend money on renovations. This is especially the case when fungal toxins remediation for mildew or mold is needed. All these are no deterrent to BiggerEquity. We buy houses AS-IS no matter the condition inColorado.
BiggerEquity can save you money and time. Sell your house to us to avoid paying closing costs or commissions. We can close on your house within 7 days.
Enjoy a Hassle-Free Transaction from Start to Finish!
You won't experience the delay of waiting for us to get loan approvals to buy your property. We have the cash to buy your house and pay off whatever debts you owe.
We aim at creating a win-win deal that benefits you and us. This is why we keep every step of the transaction transparent.
The seller agreement and documents for escrow will be provided by us; all you have to do is sign them. Yes, we are that easy to work with!
You get to sell your property without closing fees, agent fees, or expenses from paperwork. We take care of all that.
The condition or your house won't deter us. We will buy your house for cash irrespective of its condition.
We have the resources to ensure you sell your house fast for cash and close with us within 7 days.
Do you Need to Sell your House Fast in Firestone, Colorado? We Buy Firestone, Colorado Houses no Matter the Price Range, Condition, or Location.
BiggerEquity is in business to save homeowners from different types of distressed situations they can get into and make some modest profit from the deal. We are investors who specialize in helping homeowners regain their freedom from just about any burdensome situation they may be in, no matter the degree of complexity. You do not have to worry about paying any fees, realtor commissions, or upfront costs when you work with us. We simply give you the honest solution to sell your fast and resolve your problem.
WE PROVIDE THE EASIEST WAY TO SELL YOUR HOUSE!
The usual process of selling a house fast can get very stressful for most persons. However, we offer a stress-free process for you to sell your house quickly. Depending on our arrangement, we can visit your property for a short inspection or consult with you over a brief phone call and make you a fair cash offer right away. Once you accept our offer, we let you choose a closing date that will be convenient for you. Then you will get your check at the closing without further appraisals.
It is easy for us to meet you at you property because we stay in the area. This way, you will not have to slice up your schedule to arrange a meeting. Our honesty and straightforward approach to business is the reason residents of Firestone hold us in high regard when it comes to selling houses quickly. We know your neighborhood well and go above and beyond to protect your privacy when you sell your house to us. You don't have to work with corporations that will stress you out.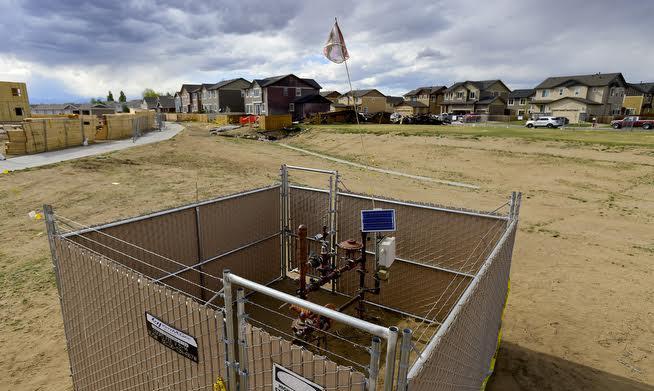 Don't Prolong your Misery, Sell your House Quickly.
Managing tenants could be a Herculean task sometimes, and not everyone is cut out for this. So, if you are currently at loggerheads with tenants refusing to pay their rents or delaying payment, it is only normal to start considering selling your house. Another reason to start thinking along this line is if your house is too far away to live in.
At your convenient time, we will send a team member from our company over to your place to carry out a property walk through.
We can make you an offer the same day we take a look at your house.
Don't Leave your House in Firestone, Colorado Vacant.
The average time it takes to sell a house via conventional sale is 4 to 5 months and this method can be expensive. BiggerEquity offers selling options that can convert your property into cash in a very short time.
BiggerEquity is a reliable company that specializes in buying any property including lands, flats, and commercial property in any condition all over Colorado. When we buy from you, you do not have to cover any additional costs such as commissions. While conventional methods of selling your house can be full of delay and other problems, we offer a fast and easy option for selling your house since we usually contact you with our decision about the transaction within 48 hours of seeing the property.
When selling your house to us at BiggerEquity , you won't have to deal with any of those things!
Is your financial status causing you to want to sell your home fast in Firestone, Colorado?
Our major objective is to ensure you sell for the best price in a fast and easy manner. First, we rely on information from current listing prices and data from past sales comparable, to provide you with a cogent market analysis. Then we provide you with a thorough breakdown of the important facts. We can effectively price your home by taking advantage of the data gathered from current listings by competitors in your area.
Moreover, most homebuyers apply for loans to buy your house and lenders are often reluctant to about approving loans if your house requires major repairs. If buyers are unable to secure the loan, it is very unlikely that you will be selling the house anytime soon.
Once the deal has been finalized, your cash is wired to you. Same way we handled our past clients, in few days you'll have your cash.
Are you Looking to Sell Quickly? We can Buy your Home Fast!
We are interested in buying your home whether it is an inheritance, damaged, owes liens, or if there are code violations against you. We have been in the business of buying homes in Firestone for many years in which time we have purchased numerous homes through ways that are simpler than traditional home sales. You do not have to worry about selling with an agent who you will eventually pay commissions. We can buy your Firestone house fast in a matter of weeks instead of having you endure multiple walk thorough sessions and extended waiting periods like you will if you work with a realtor.
Each person's situation is unique, but we are always standing by to provide you with a solution that is best for your situation – no matter how complicated it may be.
Receive a fast offer from a team of investors who buy homes in and around Colorado.
BiggerEquity is the perfect solution for every problem that affects buying properties.
Buying a house should be an easy process, and BiggerEquity can help to ensure this. Our no-qualifying lease purchase program makes it possible for you to personally experience what it feels like to live in a house or neighborhood of interest before paying for it (if you're still interested). Whether you are looking to buy a house or rent while for a while, you can browse through our available options or call us at 866-333-8377 to discuss your house viewing preferences.
Once you accept the cash offer for your house, choose a closing date that work best with you. No rush! We work around your schedule to ease the process.
Once you accept our cash offer on your home, we handle all the stress involved in selling it. We are available 24/7. We will guide you through the fast home sale process and we close at a reputable local company.
We Buy Houses in Colorado …
With a current population of 5,456,574 and growing, it's the perfect time to sell your house in Colorado.
Since the beginning of time in 1876, folks have been selling their homes in Colorado
Lawmakers in Denver, the capital of Colorado, are always coming up with new laws in congress in order to save you money when selling your home.
Since 1867, Denver the capital of Colorado, people have been selling their homes.
Can you believe Colorado is 153400 square miles? Houses for sale galore!
The first step in selling a house is a Purchase Agreement between the Buyer & the Seller. Each state has an Official residential purchase agreement. In order to find the official document for use, visit the Colorado realtor board page.
Fun Fact: Denver was named Denver City untill 1882.
Visit the Colorado by following the link, Colorado.
Check out the State Page of Colorado for additional demographic information for Colorado.
Sell My House Fast in Firestone Colorado
The city of Firestone is considered to part of Weld county.
Visit the Firestone by following the link, Firestone.
Check out the City Page of Firestone for additional demographic information for Firestone.
Firestone is associated with these zipcodes: 80520, 80504
The coordinates for Firestone are: 40.1505 latitude and -104.9479 longitude.
We buy in Weld, in cities like Greeley and their surrounding areas.