Our house-buying customer service is super impressive!
We take your privacy very seriously! This is why we keep all information you share with us confidential. Only the investors linked to BiggerEquity have access to the information about your property in order to make you a fair offer. Note that the information you provide will guide us in making you an offer so we encourage you to provide us with as much details as possible.
The families of Washington always trust us to help them out of critical situations by offering cash in hand for their houses, as soon as they need it. They know from experience that we do not reveal their private information to anyone; we only reveal public information necessary to persuade our home buyers into committing. If you have a house in Redmond and you are ready to sell it fast, simply enter your information on the form and submit it for review. After reviewing your application, we will contact you with a fair cash offer for your house and close the entire process within a few days so you can have that cash just in time to settle the issues currently bugging you. In case you were wondering, no one from our team can oblige you to accept our offer because the decision to sell your house and the preferred circumstances are totally up to you. So call us now at 866-333-8377 or fill the the form on this page to get started without further delay.
Contact us any time, any day and our team of experts will buy your house fast!
What Others Are Saying…
Selling your house fast is the best course of action if you are facing foreclosure.
Most people facing foreclosure fail to understand that folding their arms and doing nothing or praying for a miracle will not save their home. Non-action in such circumstances usually has devastating results. Selling your home as fast as possible is the smartest thing to do in such situations if the income that caused the foreclosure does not need to be replaced in the near future. Starting over is always a better option compared to being foreclosed and losing all your options. BiggerEquity can help you by updating your unpaid mortgage and giving you the equity from your home. We may be able to help in other ways if there is no equity.
You are already running out of time if you are as little as three months behind on your mortgage payments because it is very likely that proceedings to foreclose your property have already begun. Any further delay would incur more costs, including legal fees and interest, so the sooner you contact us the better your chances are of receiving needed help from us. Contact BiggerEquity for consultation on how we can help you cash out on your house and save you from being foreclosed on before you run out of time. Our goal here is to offer you a solution that is mutually beneficial; we are not here to take advantage .
Selling your home fast through a realtor usually requires you to ensure that your home is "move-in" ready. To get it into shape, you will have to invest a lot of money in home repairs and remodeling to give the house a pleasant and fresh look/feel that will grab the interest of potential buyers when they visit the house for viewing and appraisal.
You can sell your home fast to BiggerEquity without going through all that trouble. We buy houses that need extensive repair work. Whether the roof needs replacement, a fire caused some major damage , the foundation needs major repairs, it needs new carpeting, painting, kitchen or bathroom updates, we are guaranteed to buy it from you. No matter the degree of damage, we just want to buy your home and restore it to a good state.
Three Simple Steps is All it Takes to Sell Your Redmond House to Us.
Stage 1: Submit the Online Form or Give us a Call.Give us a call or complete and submit our online form to get a free quote for your home after a short conversation with us over the phone. If you accept our fair offer to buy your Redmond house, we will immediately move things to the next stage.
Stage 2: Arrange a Meeting in Your Home.Like other companies that buy houses in Redmond, we will have one of our expert home buyers pay you a visit to assess your home and see if any sections require some repair work (Note that we will cover all the repair costs; you do not have to worry about it). After the appraisal, our specialist will explain every detail of the findings and agreement to you. If you sign the agreement, we will proceed to the third and final stage.
Stage 3: Choose a Closing Date and Get Your Money.We will handle all paperwork involved in the transaction and allow you to choose when you will like to close. On the closing date, we can all sign the necessary documents and you will get the cash payment for your house immediately. We provide the simplest way to sell your house in Redmond.
Are you in the Middle of a Foreclosure? Banks do not want you to know these 3 secrets that can save you.
Knowledge
Knowledge is power. Banks know this so they keep you in the dark about the fact that you have the power to sell your house if you are faced with foreclose. While your house has sentimental value to you, to banks; it is simply an asset that can fetch them money. This is why they may lure you into making another deal with them to keep your house because, then, you wouldn't consider selling your house and they can keep milking you dry. In truth, banks do not really care about your welfare and that of your family. They are just after the money.
Power
You control the real power in the financial relationship between you and the bank but they won't tell you this because they want you to believe they are the ones who control the situation.
Action
You can take practical action to get out of your difficult situation now that you know you have the power to sell your house. Banks kept this knowledge from you to prevent you from acting, because they want it to seem like they have the real power over the situation, but you can strip them of this assumption today. By selling your house now, the bank will not be able to make any money from that property in the future.
Are you Looking to Sell your House Quickly but don't Know where to Start?
Are you looking to sell your house fast? Do you need a secure way to sell your home without stress? Are you concerned that selling your house through a real estate agent may be drawn out for too long and incur expenses that you wish to avoid? Will trying to sell your home by yourself take too much of your time? We've got you covered!
You can sell your property easily through the simple and straightforward process that we have put in place. We are ready to buy your property directly from you for cash within 10 days or at any date that is convenient for you no matter the condition of your house. In addition, you do not have to pay any fees, closing costs or commissions when you sell your property to us.
Call me at 866-333-8377 today or simply fill out the form if you need to sell your house/property, or if you want to learn more about how we can assist you to sell your house quickly.
We buy Redmond, Washington houses in a jiffy. Try us!
Do you own property that you will like to sell? Let us know about it today and we will make you a fair cash offer for it and have you choose a time that will be most convenient for you to close the sale with us.
BiggerEquity is the best company that buys houses in Redmond in an effort to help homeowners to sell their homes fast for cash. Our reputation precedes us because we consistently offer unparalleled full home sale service that is hassle-free and exceptionally fast.
We are experts at providing real estate solutions that help homeowners to easily break free from difficult situations like having a property that has become a burden, facing foreclosure, probate, etc.
What could limit me from selling my Redmond, Washington house?
There are no limitations when it comes to selling your house in Redmond, Washington. Bring it to us as-is; we buy the ugliest homes as well as those that are in need of complete renovation from their very foundations!
The biggest challenge selling with a real estate agent or selling it yourself is that most time buyers will tie you down with offer and pull out at the last minutes or have their bank loan fall through.
Basically, if you have a property you want to sell, we'd like to make you a fair offer and finalize it when you are ready.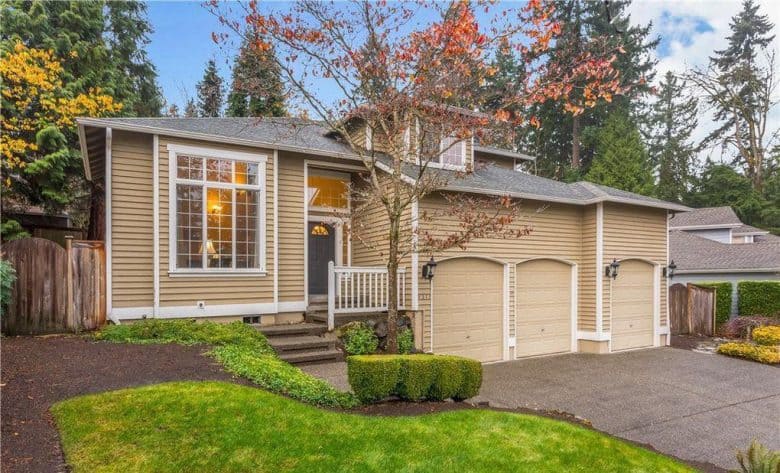 Is "I want to sell my house quickly in Redmond, Washington" the only thought on your mind? Do you want to sell your house for cash as quickly as possible?
A number of options are available to you if you are one of the many homeowners saying, "Sell my house fast in Redmond." Our team of experts at BiggerEquity work one-to-one with homeowners who want to sell their houses fast in Redmond for cash. We use all the resources at our disposal to ensure you sell your house fast in Redmond and neighboring parts in Redmond. We are interested in buying a wide range of property in Redmond including big or small homes, rental property, vacant lands, vacant homes, and commercial property.
BiggerEquity offers the easiest way to sell your house fast in Washington. You will find no better option out there. We typically complete the entire sale process in 5 to 7 days while offering you the best cash value for your house without making you pay any commissions or hidden fees. Contact us today to find out how to sell your house fast in Washington. Why remain uncertain about your chances when we can give you all the information you need and buy your house? We promise to meet your requirements and resolve any issues that arise while you are trying to sell your house to us.
We are the #1 choice when it comes to selling your Washington house fast. We specialize in helping homeowners out of burdensome situations and offering them a hassle-free process of selling their homes super-fast. You can sell your house to us as-is without making any repairs or renovations to it. Why go through the stress of listing your house when we have the financial resources to sort you out quickly? All you have to do is to contact us today to receive a cash offer for your house.
We buy houses that are put up for sale by their owners (fsbo).
Legal complications are one major source of concern under house for sale by owner (FSBO) arrangements. Be careful not to get caught up in the web of lawsuits.
Houses put up for sale by their owners require pretty much the same purchase procedures as houses put up for sale by real estate agencies. Before going the "FSBO" route, you have to be extra sure about the step-by-step processes involved in handling paperwork and legal requirements. Just make sure you are on top of your game to avoid ending up financially, mentally, and emotionally drained!
Sell disclosure laws are leading to quite a number of lawsuits these days, and you are likely to be a victim because of your decision to put up your house for sale by owner. So in order to avoid legal issues from the new owners of your home, make sure that your property clue reports are accurate, and that your natural hazard disclosure does not leave out any detail. For your information, clue reports and natural hazard disclosures vary from state to state. Double-check to be sure of what is applicable to you.
We Buy Houses in Washington …
With a current population of 7,170,351 and growing, it's the perfect time to sell your house in Washington.
Since the beginning of time in 1889, folks have been selling their homes in Washington
Lawmakers in Olympia, the capital of Washington, are always coming up with new laws in congress in order to save you money when selling your home.
Since 1853, Olympia the capital of Washington, people have been selling their homes.
Can you believe Washington is 16700 square miles? Houses for sale galore!
The first step in selling a house is a Purchase Agreement between the Buyer & the Seller. Each state has an Official residential purchase agreement. In order to find the official document for use, visit the Washington realtor board page.
Fun Fact: Washington state is the only state that is named after a president
Visit the Washington by following the link, Washington.
Check out the State Page of Washington for additional demographic information for Washington.
Sell My House Fast in Redmond Washington
The city of Redmond is considered to part of King county.
Visit the Redmond by following the link, Redmond.
Check out the City Page of Redmond for additional demographic information for Redmond.
Redmond is associated with these zipcodes: 98052, 98073
The coordinates for Redmond are: 47.6776 latitude and -122.1176 longitude.