We are Ready to Buy your Dodge City, Kansas Property. Let us Save you the Time and Money you will Spend if you Sell the Traditional Way.
Do you need a simple way to sell your property without the expenses and hassle that accompany traditional methods of selling? We will be happy to work with you even if you do not wish to sell quickly.
Simple Process – Fair Market Price, Friendly Professionals – Fast Closing.
These are some of the things you'll benefit from by selling to us. We have established a structured process to offer the best solutions for homeowners who are facing hard times, and we can buy your property very fast if you are facing time constraints.
We respect everyone we work with no matter their situation and we are guided by honesty and integrity. We do our best to provide a solution that best fits your situation and we can also recommend another buyer if we can't buy your property.
What Others Are Saying…
We Pay Cash too! Our Offer Will Beat any other Written Offers you have Received for Your Home!.
Welcome! You have come to the right place…
Here's a tip: Just get in touch with us by filling out the form on our page or simply give us a call on the number at the top of the page. That is all you need to do. You can expect a friendly call from us with no pressure at all, and you are not obligated to anything simply for contacting us. You can be certain that we will buy your property, guaranteed!
Do you wish to avoid selling your home through real estate agents? We understand your situation. Selling through agents means you have to keep your house spotless, make home enhancements, pay for listings, and allow strangers in for showings without being certain that they will buy your house. We are ready to buy your house any time irrespective of whether you are being foreclosed, bankrupt, or behind on tax payments. No matter the circumstance, we are eager to help you.
We will call you within 24 hours once you contact us with information about your situation. During this short phone conversation, we will lay out your options to help you out of your present situation at no fee. We provide this service free of charge without any commitments or obligation.
BiggerEquity provides property-buying services that are flexible. Some are:
We can arrange owner financing. As a property owner, this will help you circumvent high taxes on sales without affecting your return on investment.
We collaborate with property owners to renovate their property.
Collaborating with owners to construct brand new homes.
The testimonies of our stress-relieving home buying options are all over town. Ask anyone that has sold a house to us in Dodge City, Kansas.
People sell their houses for various reasons including liens, tenant vandalism, fire damages, a divorce , foreclosure , and relocation. Whatever the case, we are that company and will offer you cash for your house in a couple of minutes. We can conclude the entire process in only a matter of days. Wait, you're worried that we may not like the house because it's ugly? Nah, we don't discriminate like that. We buy houses fast, vacant and occupied alike!
After we have looked at your property and done our due diligence, we will make you an offer on your home. It is important to remember that no matter the company you are using you have an option to accept or reject the offer.
Call 866-333-8377 and we'll have one of our representatives attend to your needs or fill out a quick sale offer form on this page. We are open to help you 24/7.
WHY SELL YOUR HOUSE TO BiggerEquity?
BiggerEquity offers real estate solutions to people who are interested in selling their homes or investment property fast for any range of reasons. Our teams aim at improving our community by investing in it. We are expert home buyers with a flair for devising different scenarios that allow homeowners and investment property owners to sell their property fast in a hassle-free and easy way.
The wealth of experience we have gathered over the years has enabled us to successfully handle even the most complicated transactions on the real estate market. In all this time, we have mastered efficient methods that ensure the transaction is stress-free and fast irrespective of whether you are on the brink of foreclosure, own an inherited property you find difficult to manage, or need to sell your home and move on. If this is you, we would like to make you an offer to buy your home. We will take care of all the aspects of the transaction with our expert skills and give you the best customer service.
We put in quality work to bring out the full potential of each property. This is our little way of adding value to the neighborhoods where we work. We provide win-win solutions for buyers and sellers in different situations. Always remember that we are only a phone call away; we are ready to answer your calls and emails, and return them, plus we stay in touch every step of the way.
Are you looking to sell your house in or around Dodge City, Kansas? Get a fair all-cash offer from us now!
BiggerEquity is on a mission to provide the most honest, fast, and easy solutions that meet the needs of property owners having real estate problems. We want to offer you a creative solution for your property!
By selling your house to us, you will easily avoid paying realtor fees and avoid the stress of waiting for many months (or even a year) before finding a buyer for your house. Let us make you a cash offer and buy your home now!
You do not need to clean up or pay for repairs. Let us buy your house as-is, regardless of any problems it may have.
If you have houses in Dodge City, Kansas and need to sell any of them, contact us so we can give you a fair offer for your house.
You know what they say about first impressions! What's the first thing that potential home buyers come across when they get to your house for viewing? That's right: the lawn. So, if you will be renovating your house, it's better to start with that lawn before proceeding with interior renovations. Try to make changes blend in naturally with your existing lawn, so there is no room for wrong signals.
If you have a property, you need doing away with… We'd love buying it! We buy houses in any condition; even if it's in bad shape, we buy as-is. Let's help you get rid of that unwanted property.
If you have been disappointed by an agent that promised to sell your house, we can help you by buying your house without further delay. Call us NOW at 866-333-8377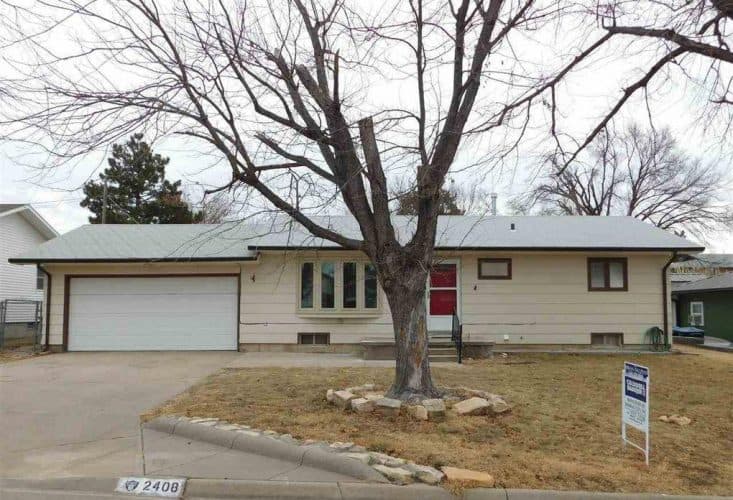 Sell your Dodge City, Kansas house to our company quickly or sell to a network of professional home buyers.
A few years ago, homes were selling very fast in this area but not anymore. Unless you have a very aggressive agent, selling your house in Dodge City through a real estate agent can be pretty difficult nowadays. However, most agents are not aggressive.
Banks too have their foreclosed houses listed on the market at ridiculously low prices that make it difficult for your house to compete when you need to sell your house fast. Too many homes are currently listed on the market and there is more competition between homeowners with property listed on the market in Kansas and nationwide.
We understand that selling your home is not a decision you made easily so we ensure the experience is stress-free. We explore different scenarios in order to provide you with the highest offer for your home that you won't get from any other buyer in Dodge City.
Buying Houses in Dodge City, Kansas
Visiting this page can only mean one thing – "I have to sell my house fast!" is a thought that has crossed your mind. Perhaps you want to sell your house fast because you do not want to lose it due to your inability to afford the mortgage payments. Did you buy the property at the peak of the market and now that market prices have dropped, your house is not worth as much as you owe? Have you inherited a home that you are finding difficult to sell because it needs extensive repairs or is damaged and real-estate agents haven't been much help? You may start asking yourself if anyone can buy your house quickly.
You need not worry anymore. By working with us, you can sell your house quickly and easily no matter its condition, size, or location. Our team of real estate investors are interested in buying different types of homes to renovate, flip, or rent. We will pay cash for your house, clear all title issues fast, and close the sale in as little time as possible.
Call us today if you need to sell your home quickly even if it means receiving less than your house is worth. We can give you a cash offer right away and buy your house today if you accept the offer. To express how serious we are, we can start the paperwork immediately, set up the real estate contract, and stay committed to it.
We Buy Houses in Kansas …
With a current population of 2,911,641 and growing, it's the perfect time to sell your house in Kansas.
Since the beginning of time in 1861, folks have been selling their homes in Kansas
Lawmakers in Topeka, the capital of Kansas, are always coming up with new laws in congress in order to save you money when selling your home.
Since 1856, Topeka the capital of Kansas, people have been selling their homes.
Can you believe Kansas is 56000 square miles? Houses for sale galore!
The first step in selling a house is a Purchase Agreement between the Buyer & the Seller. Each state has an Official residential purchase agreement. In order to find the official document for use, visit the Kansas realtor board page.
Fun Fact: Witchita Kansas is home to the first Pizza Hut store ever.
Visit the Kansas by following the link, Kansas.
Check out the State Page of Kansas for additional demographic information for Kansas.
Sell My House Fast in Dodge City Kansas
The city of Dodge City is considered to part of Ford county.
Visit the Dodge City by following the link, Dodge City.
Check out the City Page of Dodge City for additional demographic information for Dodge City.
Dodge City is associated with these zipcodes: 67801
The coordinates for Dodge City are: 37.7609 latitude and -100.0182 longitude.
We buy in Ford, in cities like and their surrounding areas.